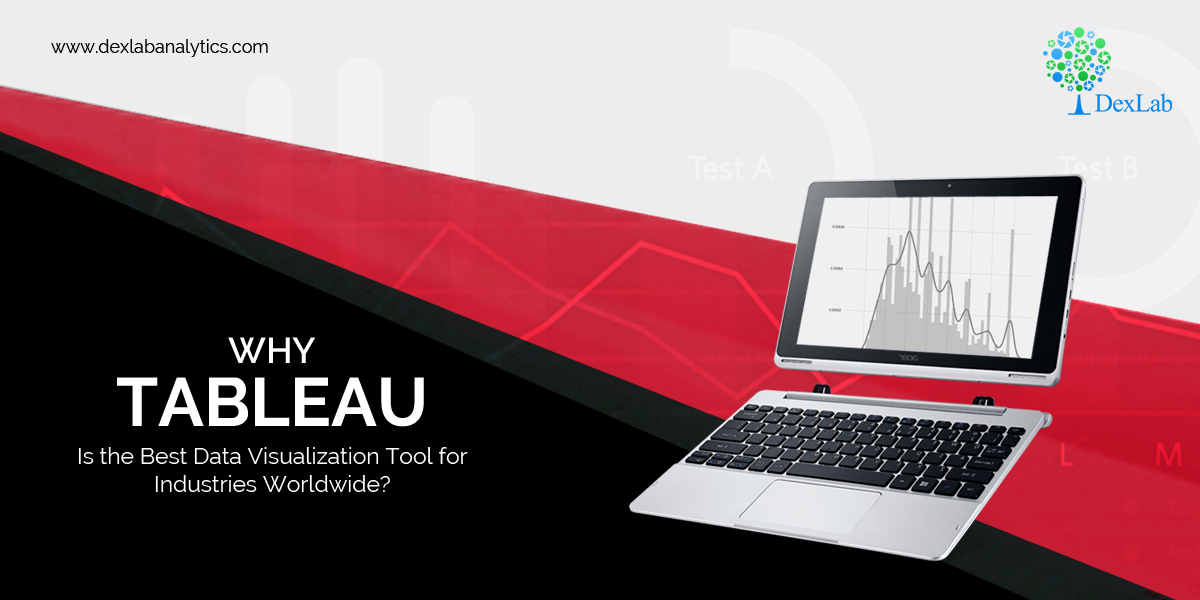 There are several data visualization tools available in the market but Tableau is the most popular and effective. Most of the key players from the BI industry depend on this software for transforming raw data into an easy-to-understand format.
What Makes Tableau So Popular?
Tableau is frequently used as a tool that helps to analyze data quickly and creates visualizations for worksheets and dashboards. It lets users design dashboards that generate actionable insights and takes businesses to new heights. Below, we've rounded up top 4 reasons why businesses rely on Tableau:
Amazing Visualizations
Tableau allows you to work with more unordered data and develop stunning visualization: courtesy an array of in-built features. You can also achieve superb context, different ways of drilling meaningful data and understand data in minutes.

Detailed Insights
The best thing about this visualization tool is that it lets you analyze future data; you can do that while observing data from several angles and approaches. Plus, you can frame hypothetical queries and work on that data correspondingly – possible only because of the feature of adding elements for comparison and analysis and 'what-if' visualizations!
Simple Approach
Being user-friendly is one of the major strengths of Tableau. Thanks to this feature, users with no coding or technical knowledge can use Tableau easily. Since most of the features are in a drag-and-drop format, any newbie can work on Tableau without possessing a prior set of skills.
DexLab Analytics is one of the most popular Tableau training institutes in Delhi. Take a look at their offerings.
Works With Various Data Sources
This is what makes Tableau an absolute essential for business houses! In Tableau, data can be taken from anywhere irrespective of its sources. This feature makes it powerful as compared to other BI and Analytics tools. It lets you connect diverse data sources, cloud files, spreadsheet data, big data, data warehouses and various other types of data, including non-relational ones. The software can blend any kind of data to create amazing visualizations that are bound to garner admiration.
Are You Ready?
As of endnotes, a large number of Fortune Global 500 companies prefer Tableau over other data visualization tools. And why not! It is user-friendly and can solve complex business problems and prepare phenomenal visualizations within minutes.
If you are interested in pursuing a business intelligence career, check out Tableau Certification Delhi. Such certification course will push your career to new heights. It will be a good start for your analytics career and you will get better opportunities to succeed.
Enroll now: <www.dexlabanalytics.com/courses/tableau-bi-visualization-certification>

The blog has been sourced from: www.knowledgehut.com/blog/business-intelligence-and-visualization/why-tableau-is-so-popular

Interested in a career in Data Analyst?

To learn more about Data Analyst with Advanced excel course – Enrol Now.
To learn more about Data Analyst with R Course – Enrol Now.
To learn more about Big Data Course – Enrol Now.

To learn more about Machine Learning Using Python and Spark – Enrol Now.
To learn more about Data Analyst with SAS Course – Enrol Now.
To learn more about Data Analyst with Apache Spark Course – Enrol Now.
To learn more about Data Analyst with Market Risk Analytics and Modelling Course – Enrol Now.