Join our free demo session on Advanced MS Excel: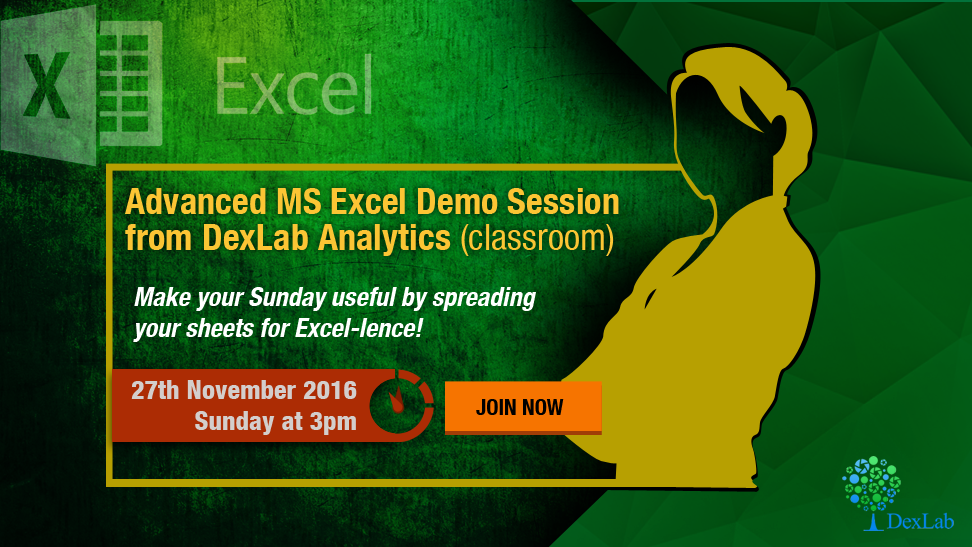 Team DexLab Analytics remains dedicated at offering data knowledge to keen learners. It is with great pleasure that we announce yet another free demo session to be held this Sunday, on the 27th of November, 2016. This time we will be discussing some concepts of Advanced MS Excel. It is a classroom demo session to be held at our Gurgaon branch.
The session will be conducted by a highly skilled and experienced trainer, who we feel privileged to have on-board with us. He has been involved in the data-related domain for more than 5 years now and has hands-on experience on the workings of the corporate data analytics industry. He will touch upon some key concepts of MS Excel such as – MS Excel Reporting, Analytics, Automation, Data Modelling and Dashboards, which are seldom discussed about in demo sessions.
This demo session is also the best place to get a glimpse into our upcoming batch on Advanced MS Excel Certification which is dated to begin from the 3rd of December, 2016. The course is a 24 hour one, and will be complete in 8 sessions in total. The timings for the batch have been decided to be 1 PM to 4 PM.
This MS Excel training module is a highly unique one, as we will teach some features that are not offered by any other contemporary Excel training institutes. It is only due to the presence of such a highly skilled trainer, that we are offering a training course that includes concepts such as:
Data Modelling

Power View

Flash Fill among others
For now we are only able to deliver such a specialized Excel training batch for the students at our Gurgaon location only, but we may soon start at our Pune location too.
We would like to promote the message that do not only get onto preparing yourself when opportunities knock at your door, because the best of opportunities only knock once, so have yourself prepared to grab them the moment they appear.