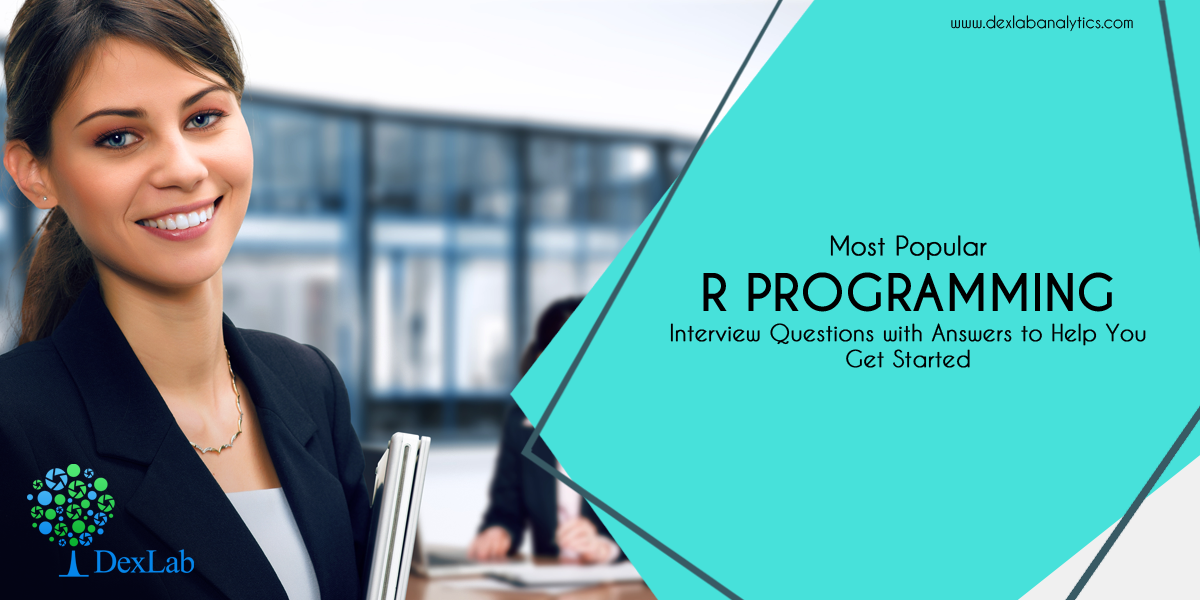 Brainchild of Ross Ihaka and Robert Gentleman, R programming language was first developed in 1993 with an exclusive and extensive catalog of statistical and graphical techniques and processes, including machine learning, time series, linear regression, statistical inference and lot more.
In the following section, we're about to talk about top interview questions on R programming –perfect for both freshers and experienced consultants, this interesting interview guide covers almost all the major concepts of R and its applications.
Dive Down!

What is R programming?
R programming is an ideal language used for data analysis, and to build incredible statistical software. It's widely used for a wide range of machine learning applications.
How to write syntax for R commands?
When you start writing commands in R, start using # in the beginning of the line, so that the commands are written as #division.
How to project data analysis outcome through R language?
The best way to convey the results would be by combining the results of data, code and analysis on a document and present the data for further reproducible research. It would help the user recheck the result and take part in the following discussions. The reproducible research aids in performing experiments easily and solving crucial problems.
What are the data structures found in R programming?
Homogenous and Heterogeneous are two data structures found in R programming. For same kinds of objects, we suggest using homogenous data structures as for Array, Vectors and Matrix. And for different types of objects, it's better to stick to heterogeneous data structures.
How should you import data in R language?
Importing of data in R is done with the help of R commander GUI – it's used to type commands and is also known as Rcmdr.
Here are 3 ways to import data into R:
As soon as you select data set from the dialog box, enter the date set name as asked.

R command can also be used to enter data – Data-> New Data Set (It's only applicable for small data sets).

The user can also import data directly from URL, through simple ASCII file, statistical package or from clipboards.
Highlight the advantages of R programming language.
The user doesn't get entangled in license restrictions and norms for using R programming.

It's an open source software and completely free of cost.

It has several graphical capabilities.

It is easily run on a majority of hardware and OS (including 32 and 64-bit processors).
Mention the limit for memory in R.
For a 32-bit system, the memory of R is limited to 3GB. And for a 64-bit system, the limit is extended to 8TB.
With this, hope you are ready to crack a tough job interview on R programming – however, for those, who want to dig deeper into the intricacies of this fascinating programming language, we have fabulous R programming courses in Gurgaon. With them discover the path towards a dream career!
The blog has been sourced from — www.janbasktraining.com/blog/r-interview-questions-answers
Interested in a career in Data Analyst?

To learn more about Data Analyst with Advanced excel course – Enrol Now.
To learn more about Data Analyst with R Course – Enrol Now.
To learn more about Big Data Course – Enrol Now.

To learn more about Machine Learning Using Python and Spark – Enrol Now.
To learn more about Data Analyst with SAS Course – Enrol Now.
To learn more about Data Analyst with Apache Spark Course – Enrol Now.
To learn more about Data Analyst with Market Risk Analytics and Modelling Course – Enrol Now.