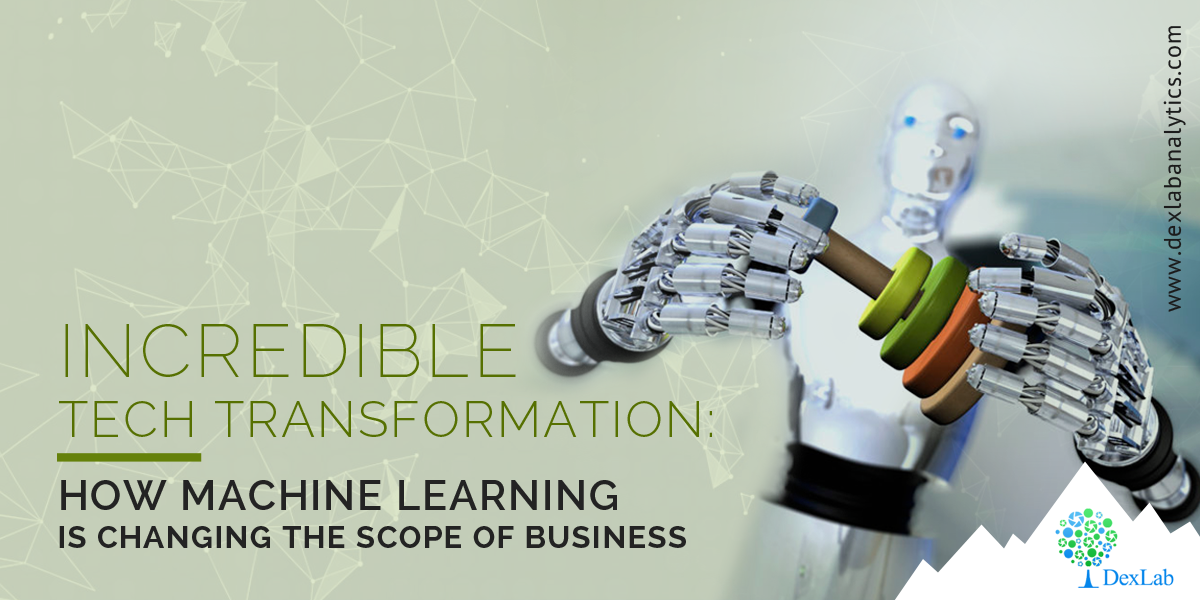 Machine Learning coupled with data analytics is modifying the norms of how business handles crucial data. Insights into ML and AI is already reaping benefits in transforming vast pools of data – curated by dexterous data pundits into meaningful, relevant analytic results that would have escaped clumsy human analysis, previously.
Today, the combat weapon of Machine Learning has started to influence the entire business world. While many organizations have grasped the bounties of this hi-tech tool of learning, few are left to fathom how it would affect the way they do business. The automation process is a completely data-driven task – ideal to change enterprises into vendors – by turning lessons learnt into advanced algorithm programs worthy of licensing to software and service providers for good money.

Nevertheless, a lot of all that depends on how machine learning is going to evolve in the coming five to ten years and what implications it would bring into the hiring or recruitment strategies in the long run. And the best area to start off this discussion is unsupervised machine learning, where intricate frameworks are allotted large datasets and asked to draw patterns without human help to figure out what the software needs. With minimum human interference, the scalability of this mode of ML is the highest.
Supervised or Unsupervised? Which is better?
Supervised ML needs human help to develop large sets of training data and corroborate the results of the training. Speech Recognition is the perfect example of such ML. But it is challenging to procure and classify vast data for supervised training. As a result, unsupervised ML is the key to the future – it reduces such interaction to a large extent. The minimum involvement of human beings suffices to be a boon – but take a note, a data scientist is required to select the data that is to be evaluated.
Unsupervised learning also needs a human touch to assign values to data structures and clusters. Hence, we cannot say for sure they are totally human-error free. Instead, we should focus more to ace up the performance of humans in tackling data for own interests.
In this context, "I think, right now, that people are jumping to automation when they should be focused on augmenting their existing decision process," says David Dittman, director of business intelligence and analytics services at Procter & Gamble. "Five years from now, we'll have the proper data assets and then you'll want more automation and less augmentation. But not yet. Today, there is a lack of usable data for machine learning. It's not granular enough, not broad enough."
How to become a vendor from a consumer
A portion of what drives an incessant demand for data scientists is the pressing need for data to turn ML more productive. Mike Gualtieri, Forrester Research's vice president and principal analyst for advanced analytics and machine learning thinks that some organizations, exactly five years from now might turn into vendors -"Boeing may decide to be that provider of domain-specific machine learning and sell [those modules] to suppliers who could then become customers," he says. Like him, Dittman also sees the thriving combination of Data and ML code as being a highly sellable product, more so a potent new source of revenue for organizations – "Companies are going to start monetizing their data," he explains. "The data industry is going to explode. Data is absolutely exploding, but there is a lack of a data strategy. Getting the right data that you need for your business case, that tends to be the challenge."
Irrespective of what the future holds, technology is grooming to become an extravagant revolving door of striking innovation, and the only way to nab this technology is by making ourselves technology-friendly. For excellent business analytics course in Delhi, DexLab Analytics provides the perfect platform to deliver student-friendly education on data analytics at affordable prices. Dig into our data analyst course by clicking on our homepage.
Interested in a career in Data Analyst?

To learn more about Data Analyst with Advanced excel course – Enrol Now.
To learn more about Data Analyst with R Course – Enrol Now.
To learn more about Big Data Course – Enrol Now.

To learn more about Machine Learning Using Python and Spark – Enrol Now.
To learn more about Data Analyst with SAS Course – Enrol Now.
To learn more about Data Analyst with Apache Spark Course – Enrol Now.
To learn more about Data Analyst with Market Risk Analytics and Modelling Course – Enrol Now.