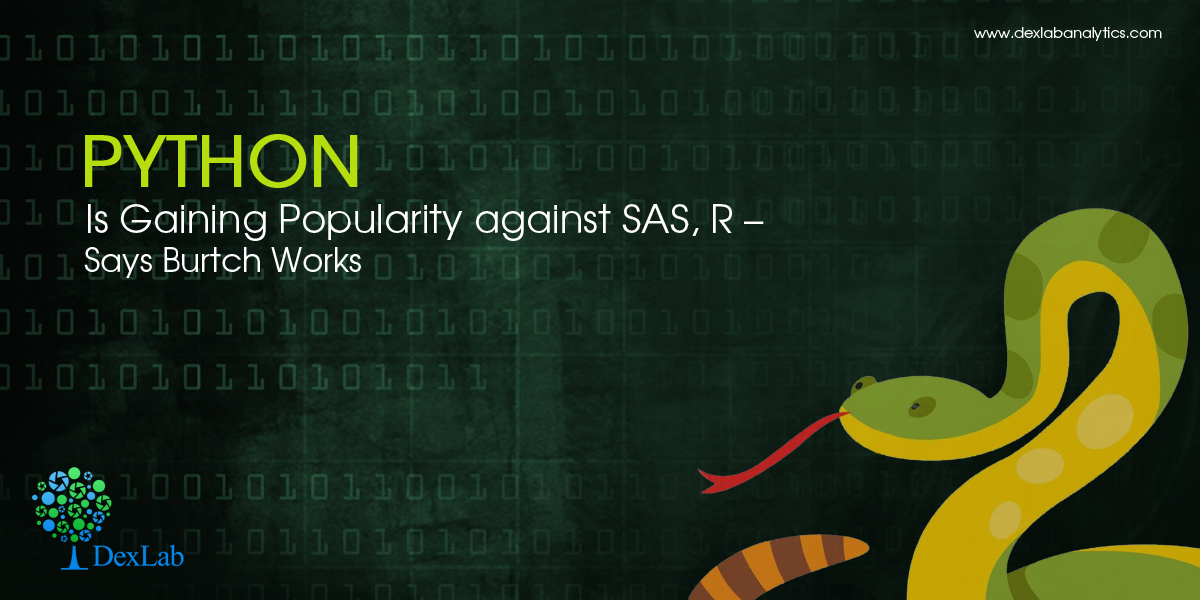 Python is on the rise – though R and SAS are languages of choice amongst the data scientists but R is soon ascending the steps of analytics ladder. Already a lot of practitioners and data scientists have armed themselves up with this incredible R Programming tool for future career aspirations. To add volume to the statement, we've a new survey from a high-end recruitment agency, Burtch Works – let's see what their comprehensive report says about our preferred language.
The survey began with R, an open source tool and SAS, another commercial tool. Later in 2016, Burtch Works added another open source tool, Python.
This year, however we witnessed something that never happened before. There's no clear winner, this time – Python stood at 33%, R at 33% and SAS at 34%. "This is the first year that we've seen SAS, R, and Python all at the same level of preference," said Linda Burtch, a quantitative recruiting specialist and Managing Director at Burtch Works.

According to the results, R declined slightly as compared to last year figure, whereas SAS remained fairly flat. On a positive note, Python continued reflecting an increasing trend over the last two years, since its inclusion.
"The most noticeable trend from the 2018 data was Python's ascension, and how Python's growing popularity has been eroding support for R," Burtch shared with InformationWeek. "Data scientists have typically strongly preferred Python, but predictive analytics professionals working primarily with structured data are shifting that way as well."
To grab Python Certification, visit DexLab Analytics…
But what makes Python so fetching? It is considered to be a very strong language for machine learning, perfect for data visualizations and other statistical applications, better than SAS and R. Budding professionals enjoy working with Python(48%) as compared to R(38%) and SAS(14%). Survey reveals that open source tools, such as R and Python are in-favor of professionals who are young and new in technology. 
Going by the survey results, the use of R has fallen drastically from 50% in 2016 to below 40% this year. At the same time, the growth of python has been phenomenal – in 2016, it was standing at 20% and this year, it is hovering around 50%.
"Python gained support in almost every category we examined this year and has especially taken hold at the early career level, with professionals who have five or less years of work experience," Burtch concluded to InformationWeek.
As parting thoughts, Python is considered to be a very versatile programming language. Its popularity soared in recent years – its usage and employability knows no bounds. For beginners and newcomers, it's like a treasure trove waiting to be discovered. So, if you are one of them, it's high time to consider a Machine Learning Using Python certification program – easy to learn and highly accessible, Python programming is ideal to get started. Most importantly, its simplified syntax with an undue focus on natural language is an added bonus.
The blog has been sourced from – 
informationweek.com/big-data/ai-machine-learning/python-gains-on-sas-r/d/d-id/1332331
kdnuggets.com/2017/07/6-reasons-python-suddenly-super-popular.html
Interested in a career in Data Analyst?

To learn more about Data Analyst with Advanced excel course – Enrol Now.
To learn more about Data Analyst with R Course – Enrol Now.
To learn more about Big Data Course – Enrol Now.

To learn more about Machine Learning Using Python and Spark – Enrol Now.
To learn more about Data Analyst with SAS Course – Enrol Now.
To learn more about Data Analyst with Apache Spark Course – Enrol Now.
To learn more about Data Analyst with Market Risk Analytics and Modelling Course – Enrol Now.