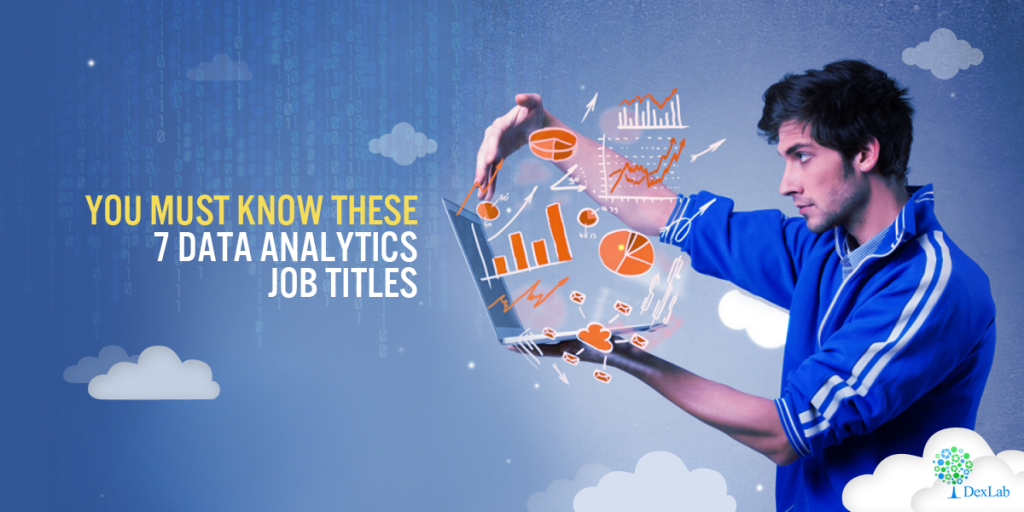 These days leveraging data be it big or small has become a powerful tool for all enterprises. IT firms are successfully transitioning to digital businesses and opportunities within the companies themselves are increasing to fulfil the growing demands.
So, if you want to join this megatrend in the job market, read on to find out the most in-demand data analytics job titles for today's professionals:
Data scientist:
This job title has been getting a lot of attention since the past few years now. So much so, that even Glassdoor named it as the best career choice for optimum work/life balance. Their salaries are also comparatively higher.
But the field is still cloudy in terms of the job functions. So, let us understand what it actually means to be a data scientist.
According to Burch Works data scientists are people who "apply sophisticated quantitative measures and computer skills to both structure and analyze the massive amount of unstructured data sets or stream data continuously with an intention to derive information and prescribe action.
The executive recruiting firm says that the coding skills of these professionals are the main distinguishing factor that separates them from other predictive analytics professionals and allows them to exploit data regardless of its size, source and format.
These data professionals often have a master's degree or a PhD in quantitative disciplines, such as applied math or statistics. They have expert skills and knowledge in statistical and machine learning methods and know tools like SAS, R etc. they are also proficient in other Big Data software like Hadoop and Spark.

Advanced analytics professional:
The professionals with this job role perform predictive analysis, prescriptive analysis, simulations, and all other forms of advanced analytics. Their role is however, significantly different from data scientists as they do not work with very large data sets and also not with unstructured data.
Data analyst:
A gamut of responsibilities fall under the job listings of a data analyst. They include ensuring data quality and governance, building different systems that enable businesses to gain user insights, performing actual data analysis and much more. However, the skill sets are similar and typically these professionals fit into the same category as advanced analytics professionals and data scientists, because they all can analyze data. But despite such similarities data analysts may be considered as more junior-level employees who are still in a way generalists and can fit into several different job roles within the organization.
Data engineers:
These are the wizards who work behind the scenes to make the jobs of data analysts and data scientists easier. They are technical professionals who have a deep understanding of Hadoop and other Big Data technologies like MapReduce, Hive, SQL and Pig, NoSQL technologies and other data warehousing systems.
Their primary job role is to construct the plumbing, build the data pipelines that clean, collect and aggregate data, organize it from different sources and then load them in data warehouses and databases.
Note that data engineers do not analyze data, but in other words keep the data flowing for processing so that other professionals can analyze them.
Business Analyst:
Business analysts can perform all the tasks that are almost the same for those who perform data analysis. However, business analysts generally have specialized knowledge of their specific business domain and then they apply that knowledge and analysis specifically for the business operations. For example, they may use their analytical skills to recommend improvement suggestions for the business.
Database Administrator:
These professionals are responsible for all things relevant to the operations, monitoring, and maintenance of the databases, often SQL or other relational database management systems also form their jurisdiction. Their tasks include installation, configuration, schemas definition, user training, and maintaining documents.
The database vendors like IBM, Oracle, Microsoft and others often offer certifications specific to their own proprietary technologies for such pros.
Business Intelligence professional:
BI professionals are responsible for adapting themselves with OLAP tools, reports and other data dashboards for looking at historical trends within data sets. Business Intelligence can have data visualization, and also include popular business intelligence platforms like Qlik, Tableau and Microsoft Power BI.
These were the most in-demand job titles in the data analysis industry, to help turn your career into the right direction take a look at our Big Data courses and have a job that you would thoroughly enjoy.
Interested in a career in Data Analyst?

To learn more about Data Analyst with Advanced excel course – Enrol Now.
To learn more about Data Analyst with R Course – Enrol Now.
To learn more about Big Data Course – Enrol Now.

To learn more about Machine Learning Using Python and Spark – Enrol Now.
To learn more about Data Analyst with SAS Course – Enrol Now.
To learn more about Data Analyst with Apache Spark Course – Enrol Now.
To learn more about Data Analyst with Market Risk Analytics and Modelling Course – Enrol Now.