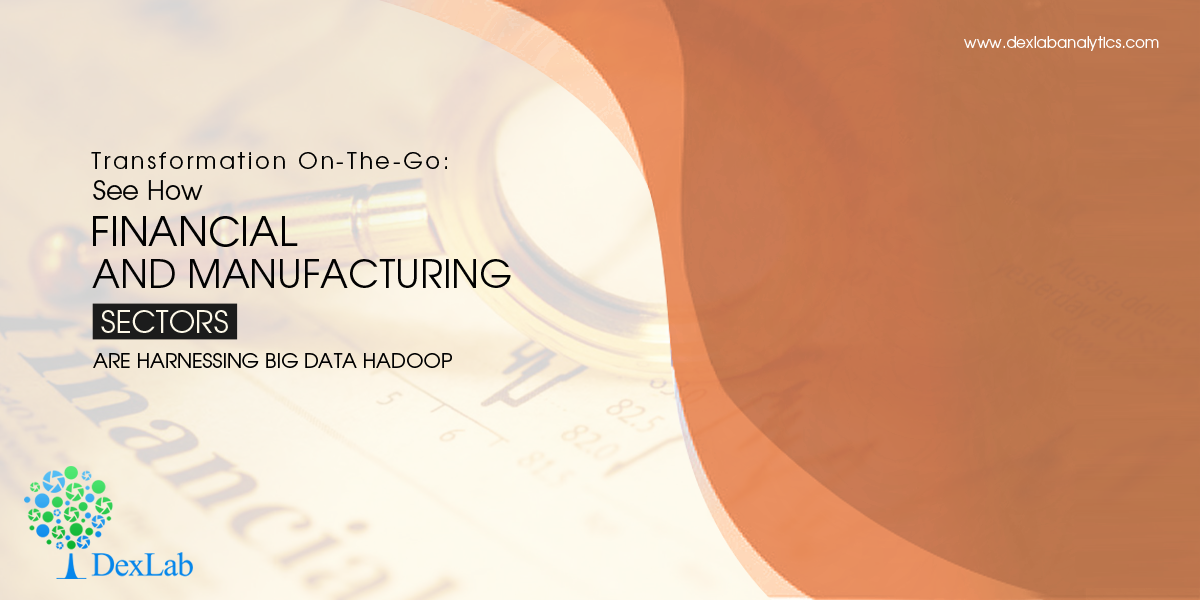 An elderly man of 50 years of age was on the treadmill, when suddenly he received an alert on his Apple Watch showing his pulse has shot up abnormally high, putting him at the risk of a possible heart attack.  Immediately he got off from the treadmill and his life was saved!
Thanks to Pontem, an incredible platform that intakes input from Apple Watch and Fitbit and issues such consequential alerts wielding machine learning, cloud-based data and cognitive processing. From the point of view of a user, these alerts are life-saver, but for the developers, it implies the latest evolution of big data technology, especially Hadoop ecosystem. Once a mere data managing tool, Hadoop is maturing and making its way to the next level.
Today, Hadoop is the lifeblood of industry-specific solutions. But adopting it for your business is no mean feat. You need to have a specific approach in sync with the particular industry type.
Financial Sector & Manufacturing
After healthcare, financial and manufacturing industry is the biggest consumer of Hadoop technology. Besides, managing, storing and analyzing data, big data coupled with AI and machine learning helps understand the intricacies of credit risk more effectively.
Of late, credit risk management has been troubling financial services companies. Though the entire banking industry has matured, the constantly evolving nature of models has been a headache for traditional credit risk models. However, the expansiveness of big data and availability in multiple formats has helped companies ace in advanced credit risk models – which was next to impossible even a few years back.
With Big Data Hadoop, a large amount of customer data is available – including online browsing activity, user spending behavior and payment options, all of which helps banks and other financial institutions frame better decisions. Commendable Hadoop's ability to manage and manipulate unstructured data is put to use for respective functions. Over the years, Hadoop has evolved to offer sound flexibility and massive scalability to manage big data. Incorporating AI and Machine Learning, the new sophisticated models based on Hadoop clusters breaks down big data into small, easy-to-comprehend chunks, while adapting to changing, innovative data patterns. In short, the management of big data has now become comparatively an easy task – using low cost hardware, self healing, self learning and internal fault tolerance attributes. No more, you feel like stuck in a cleft stick, while handling such a massive infrastructure of big data.
For manufacturing industry, predictive analytics is the key that's bringing in large-scale digital transformation – internet connections and sensors are providing real-time data for better operations. Sensors have the ability to detect prior anomalies in the production process, thereby preventing production of defective items and curtail subsequent waste. Often, there is a deep learning or AI connect to the analytics layers existing on the top of Hadoop data lakes that offers suave data analytics and self-learning capabilities. It's said, around 80% of manufacturers will implement cutting edge technology in the next few years. And the numbers are just increasing.
Hadoop is not like a magic potion. It's a robust platform on which you can harness the data power. However, to master Hadoop technology, you need to have required knowledge and expertise as per the industry standards. DexLab Analytics is a well-recognized Big Data Hadoop institute in Noida. They offer an extensive range of courses on in-demand skills, including Big Data Hadoop training in Delhi.
Check out their latest admission drive #BigDataIngestion: students can avail 10%off on in-demand courses, like big data hadoop, data science, machine learning and business analytics. Limited offer. Hurry!
This blog has been sourced from: http://dataconomy.com/2018/05/hadoop-evolved-how-industries-are-being-transformed-by-big-data/
Interested in a career in Data Analyst?

To learn more about Data Analyst with Advanced excel course – Enrol Now.
To learn more about Data Analyst with R Course – Enrol Now.
To learn more about Big Data Course – Enrol Now.

To learn more about Machine Learning Using Python and Spark – Enrol Now.
To learn more about Data Analyst with SAS Course – Enrol Now.
To learn more about Data Analyst with Apache Spark Course – Enrol Now.
To learn more about Data Analyst with Market Risk Analytics and Modelling Course – Enrol Now.