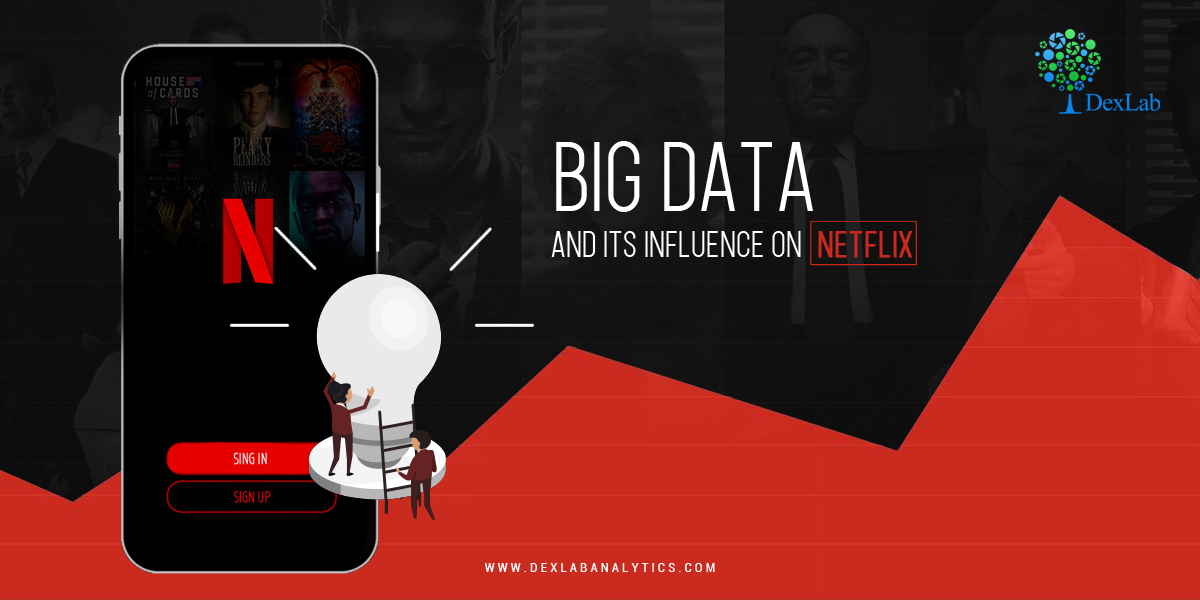 With resonating hits, like Bird Box and Bandersnatch, Netflix is revolutionizing the entertainment industry – all with the power of big data and predictive analytics.
Big Data Analytics is the heart and soul of Netflix, says the Wall Street Journal. Not only the company relies on big data to optimize its video streaming quality but also to tap into customer entertainment preferences and content viewing pattern. This eventually helps Netflix target its subscribers with content and offers on shows they prefer watching.

Committed to Data, Particularly User Data
With nearly 130 million subscribers, Netflix needs to collect, manage and analyze colossal amounts of data – all for the sole purpose of enhancing user experience. Since its inception days of being a mere DVD distributor, Netflix has always been obsessed about user data. Even then, the company had an adequate reservoir of user data and a robust recommendation system. However, it was only after the launch of its incredible streaming service that Netflix took the game of data analytics to an altogether different level. 
In fact, Netflix invested $1 million in a cutting-edge developer company for coming up with an algorithm that increased the accuracy of their already-existing recommendation engine by almost 10%. For this, Netflix can now save $1 billion annually from customer retention.
Netflix Already Knows What You Going to Watch Next
Yes, Netflix is a powerhouse of user behavior information. The content streaming giant knows your viewing habits better than you – courtesy pure statistics, preferably predictive analytics. This is one of the major strengths of Netflix – the way it analyzes data, adjusts algorithms and optimizes video streaming experience is simply incredible.
However, nothing great comes easy. Close monitoring of user viewing habits is essential. Right from how much time each user spends on picking movies to the number of times he/she watches a particular show, each and every data is extremely important. Moreover, conventional calculus helps Netflix in understanding its user behavior trends and necessarily provides them with appropriate customized content.
As closing thoughts, Netflix is a clear-cut answer to how technological advancement has influenced human creativity beyond levels. Powered by big data and predictive analytics, Netflix has surely debunked several lame theories on content preference and customer viewing habits. So, if you are interested in big data Hadoop training in Delhi, this is the time to act upon. With DexLab Analytics by your side, you can definitely give wings to your dreams, specifically data dreams. 

The blog has been sourced from — www.muvi.com/blogs/deciphering-the-unstoppable-netflix-and-the-role-of-big-data.html

Interested in a career in Data Analyst?

To learn more about Data Analyst with Advanced excel course – Enrol Now.
To learn more about Data Analyst with R Course – Enrol Now.
To learn more about Big Data Course – Enrol Now.

To learn more about Machine Learning Using Python and Spark – Enrol Now.
To learn more about Data Analyst with SAS Course – Enrol Now.
To learn more about Data Analyst with Apache Spark Course – Enrol Now.
To learn more about Data Analyst with Market Risk Analytics and Modelling Course – Enrol Now.