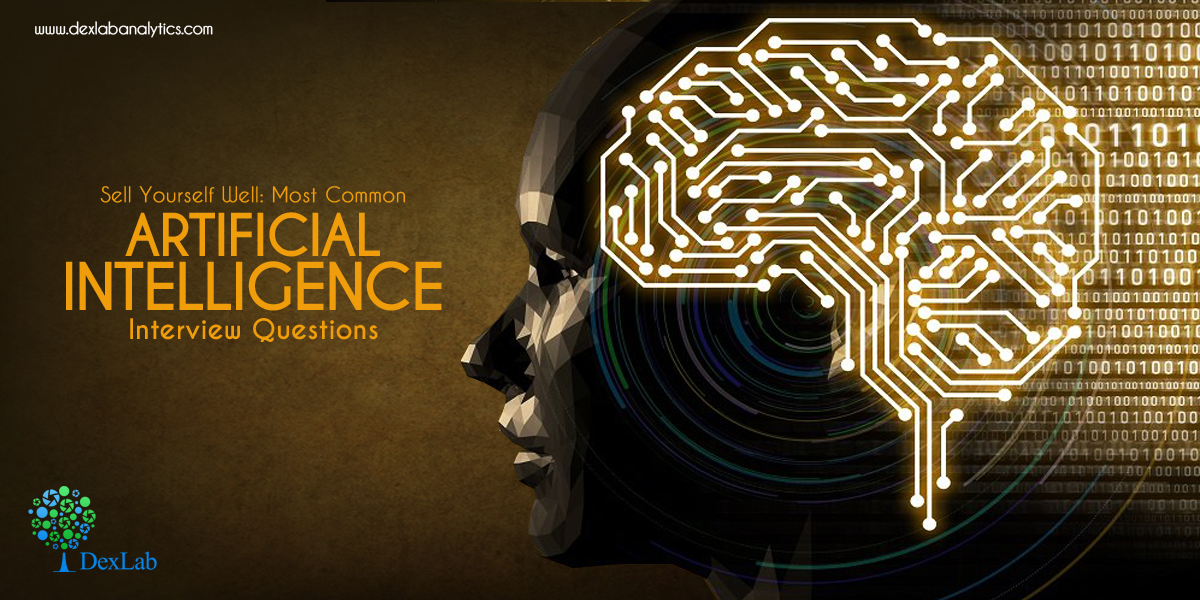 Artificial Intelligence is seeping through our daily lives. Day by day, the robust technology is building a profound impact in the most beguiling ways, increasing the demand for AI professionals, blessed with the in-demand skills and expertise. No matter what, the future of AI seems to be all bright and beautiful.
This is why we are here to help you crack major AI job interview questions and guide your career through this fascinating field of science and technology. Go through the following questionnaire and showcase your knowledge, skill and talent. This will highlight how well you know the various nuances of AI and its implications.
What is Artificial Intelligence?
AI is the budding field of computer science and IT – which stresses on creating intelligent machines that imitate human brain's cognitive abilities. It's the simulation of human intelligence processed by machines using computer systems. Some of the notable AI activities are:
Speech recognition

Learning and planning

Problem-solving
What are the fields where AI is used?
Since its inception, AI is used across fields of extreme diversity, and some of them are mentioned below:
For customer support, including chatbots, sentiment analysis bots and humanoid support robots

In the linguistic field of processing natural language

Across IT fields, like computer software, sales prediction and analysis

Highlight the advantages of Fuzzy Logic Systems.
Following are the key advantages of Fuzzy Logic System:
Easy to understand

Simple constructible logics

Takes in inaccurate, ill-mannered and malformed input data

Flexibility to include and delete the rules as per convenience in the FLS
DexLab Analytics is a prime artificial intelligence training institute, headquartered in Gurgaon. Peruse over their in-demand skill training courses and be sorted for a promising career in data!
What is FOPL?
FOPL is the short form of First-order Predicate Logic, which is a compilation of formal systems, where the statement is divided into two sections: a subject and a predicate. The predicate has the power to determine or modify a subject's characteristics.
What do you mean by Greedy Best First Search Algorithm?
This is an incredible algorithm method, where the node nearest to the goal expands first. f(n) = h(n) is the default explanation of nodes, and this process is largely applied in the subsequent levels, where priority queue comes into question.
Do you know the artificial key in AI?
An artificial key in AI is built by assigning a number to an individual record, when a standalone key goes missing.
What is an alternate key in AI?
All the candidate keys except primary keys are called alternate keys.
Mention the components of Robotics.
These are the following components, which we would require to build a robot:
Actuators

Pneumatic Air Muscles

Sensors

Power Supply

Electric Motors

Muscle Wires

Ultrasonic and Piezo Motors
Hope these general job-interview questions have helped you grasp the underlying features of AI and its applications. For more research in this specific area of interest, we recommend artificial intelligence certification in Delhi NCR – DexLab Analytics is the go-to institute in this case.

The blog has been sourced from — www.janbasktraining.com/blog/artificial-intelligence-interview-questions

Interested in a career in Data Analyst?

To learn more about Data Analyst with Advanced excel course – Enrol Now.
To learn more about Data Analyst with R Course – Enrol Now.
To learn more about Big Data Course – Enrol Now.

To learn more about Machine Learning Using Python and Spark – Enrol Now.
To learn more about Data Analyst with SAS Course – Enrol Now.
To learn more about Data Analyst with Apache Spark Course – Enrol Now.
To learn more about Data Analyst with Market Risk Analytics and Modelling Course – Enrol Now.