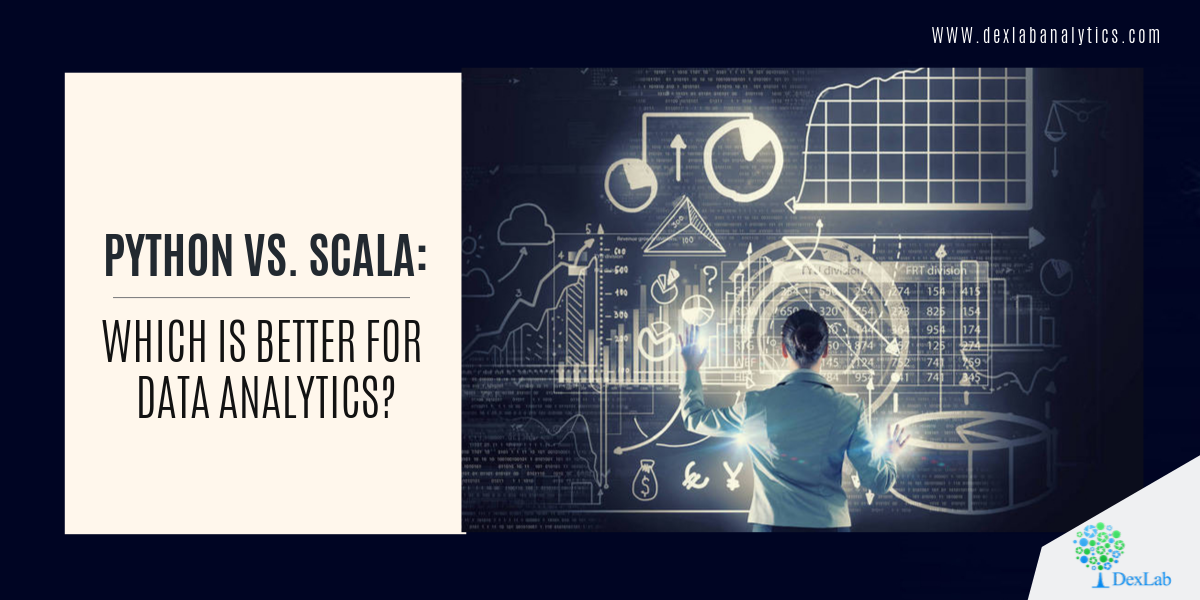 Data Science and Analytics seem to be synonymous to progress as far as the field of computer science is concerned. Now, with the rise of these technologies, everything goes down to the programming languages, which single-handedly help in the growth of them. 
This gave rise to Python, now known as the most significant language in the world of technology. Scala is another versatile language which is not unknown to the researchers and tech geeks. These two languages are the most talked about in the industry today. Nevertheless, both of them are extensively used in data analytics and data science. However, the debate regarding which one to opt for among the two has always been constant. But worry no longer because here we will discuss both of them, in brief, to help you with your choice!

Python
Python is really one of the most popular languages in the industry. The open-source nature of the language makes it a popular choice for scripting and automation works. 
Besides, Python is powerful, effective, and easy to learn. Moreover, Neural Network Machine learning Python boasts of its efficient high-level data structures and for object-oriented programming.
Advantages
Easy to learn and effective too.

Exhaustive support from active communities.

Python enjoys built-in support for the datatypes.
Disadvantages
Your computer might slow down a little when you are running Python. This is in contrast to when you are running other languages like C or Java.
Scala
If you want an object-oriented, functional programming language, then Scala would certainly be your first choice. It was basically built for the Java Virtual Machine (JVM) and remains the most compatible programming language with Java code till date.
Advantages
Scala can utilise the majority of the JVM libraries, thus helping them to be embedded in the enterprise code.

It shares an array of readable syntax features of the popular languages, like Ruby.

Scala brags about numerous incredible features like string comparison advancements, pattern matching and its likes.

Disadvantages
Scala has a limited number of users in the communities, which encourages lesser interactions and stunted growth.

At times the type-information in Scala is really complex to comprehend. This difficulty can be attributed to the functional and object-oriented nature of the language.
We hope that this article helps you to have a brief insight into two of the most demanding programming languages: Python and Scala.
Now, if you want to enrol yourself in Computer vision course Python, you can reach us right at Dexlab Analytics, the most reputable institute for Big Data Analytics. Also, if you are looking for all-inclusive Deep learning for computer vision Course, turn no further than our premium institute to shoot your career up!
Interested in a career in Data Analyst?

To learn more about Data Analyst with Advanced excel course – Enrol Now.
To learn more about Data Analyst with R Course – Enrol Now.
To learn more about Big Data Course – Enrol Now.

To learn more about Machine Learning Using Python and Spark – Enrol Now.
To learn more about Data Analyst with SAS Course – Enrol Now.
To learn more about Data Analyst with Apache Spark Course – Enrol Now.
To learn more about Data Analyst with Market Risk Analytics and Modelling Course – Enrol Now.
October 10, 2019 12:17 pm
Data analyst certification, Data analyst course, data analyst course in delhi, Data analyst training institute, data analytics, data analytics certification courses, Python, Python certification, python certification course, Python courses, Python Training Institute, Python vs. Scala, Scala Certification Training, Scala Course Training Institute, Scala Training Institute, Software tools : SAS, R, Python etc