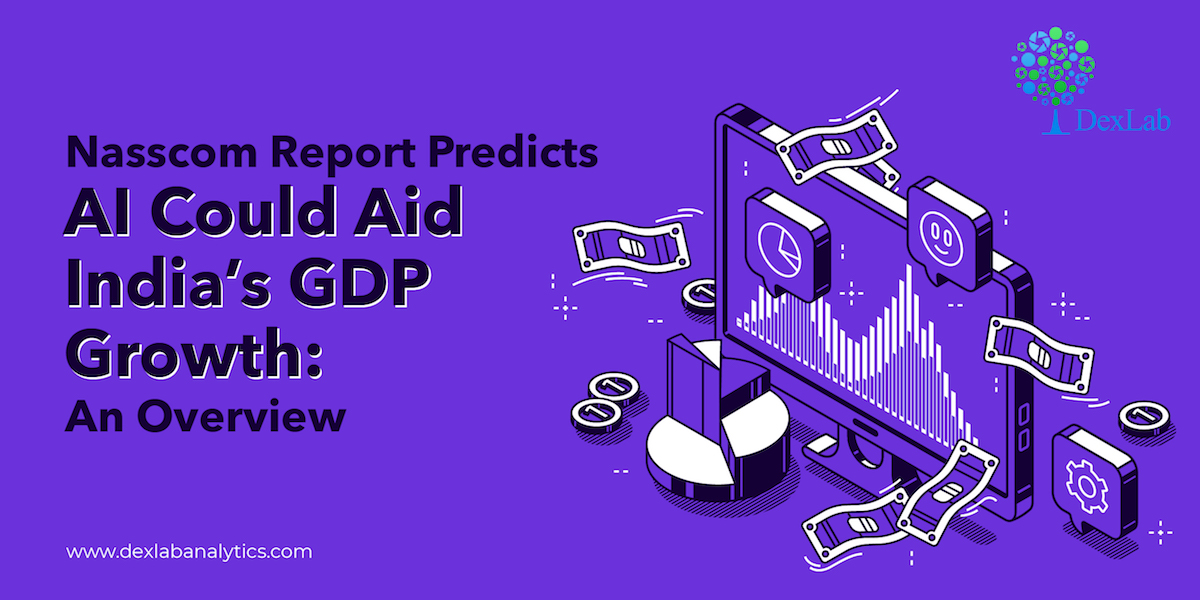 The journey of AI and Data has been quite impressive and India is one of the smart countries that recognized the true potential both hold. Several industries are gearing up to adopt the AI technology to enhance their capabilities. The push for developing better models to utilize big data to derive smarter solutions is also there. The changing scenario is also gradually shaping up the future learning path of the current generation of Indians, as a significant chunk of them is steering their career towards the new pastures being created by AI. The demand for professionals trained in big data training in gurgaon, is on the rise and there is good news awaiting them.
India could envision a brighter future as a recent report from Nasscom predicts that by the year 2025, India's GDP could expect leverage from Artificial Intelligence (AI) and data as, the combined contribution of both technologies could hover around $450-$500 billion. The report 'Unlock Value from Data and AI: The Indian Opportunity', is seeing this as a great opportunity that could give a boost to India's economic growth and also aid in its recovery.
Nasscom has an action plan ready for India, it identified five key areas and it recommends that we need to put our focus on these core areas namely strategy, data, technology stack, talent, and execution. Nasscom's report further elaborates that in the context of the current pandemic situation which is slowing down the global economy, India could assume a leadership position if it takes a holistic approach towards data utilization and AI effort.
The Nasscom report and the proposed action plan have been reviewed by the industry leaders and recommendations were sent to PM Narendra Modi. Ravi Shankar Prasad, the Minister of Law and Justice, Communications, Electronics and IT, sounded hopeful as he said that digital India helped reimagining the way the government stays connected to its citizens and AI and other technologies would push this objective further, he also said ".. In order to harness its full potential, India needs to embrace AI innovation and regulation with an open, inclusive…and a collaborative mindset,".
There was a virtual launch of the report followed by a panel discussion where Wipro chairman Rishad Premji, opined "How do we ensure we move beyond from pilots to scalability. We do a great job in starting ideas off and getting them into pilot mode, but how do we get real scale where the magic lies and identify the challenges that lie in getting a pilot to scale," Nasscom chairman UB Pravin Rao, seconded his view and insisted that the focus should be on execution.
The report suggested three interventions to create a 'vibrant data economy in India', and further recommended that high-quality data sets, data governance standards, and data marketplace need to be developed to realize the goal of creating a 'vibrant data economy'. India needs to fortify its capabilities to position itself as a global hub and thereby open doors to investment, jobs and of course further innovation.


The report further stresses the need to build an AI innovation ecosystem and engage the private sector and entrepreneurs to realize the goals. Debjani Ghosh, President, Nasscom, pushed the discussion further by stressing "Data and AI's true potential emerges from its ability to drive transformation across multiple sectors through a diverse range of applications. The report articulates the key structural steps that India needs to take to realise the value of this opportunity,"
Truly India needs to work on developmental policies as per the recommendations in the report and start putting brilliant minds together to realize a smarter future driven by the combined forces of AI and data, a future that certainly belongs to us.
The blog has been sourced from: https://m.economictimes.com/tech/internet/artificial-intelligence-could-add-450-500-billion-to-gdp-by-2025-nasscom/amp_articleshow/77615427.cms?__twitter_impression=true

.