Spreadsheets are savior. In majority of industries, they have become a necessity. With ample filling rows and columns inundated with data points, Excel is the need of the hour. It is a top notch application for creating and managing spreadsheets.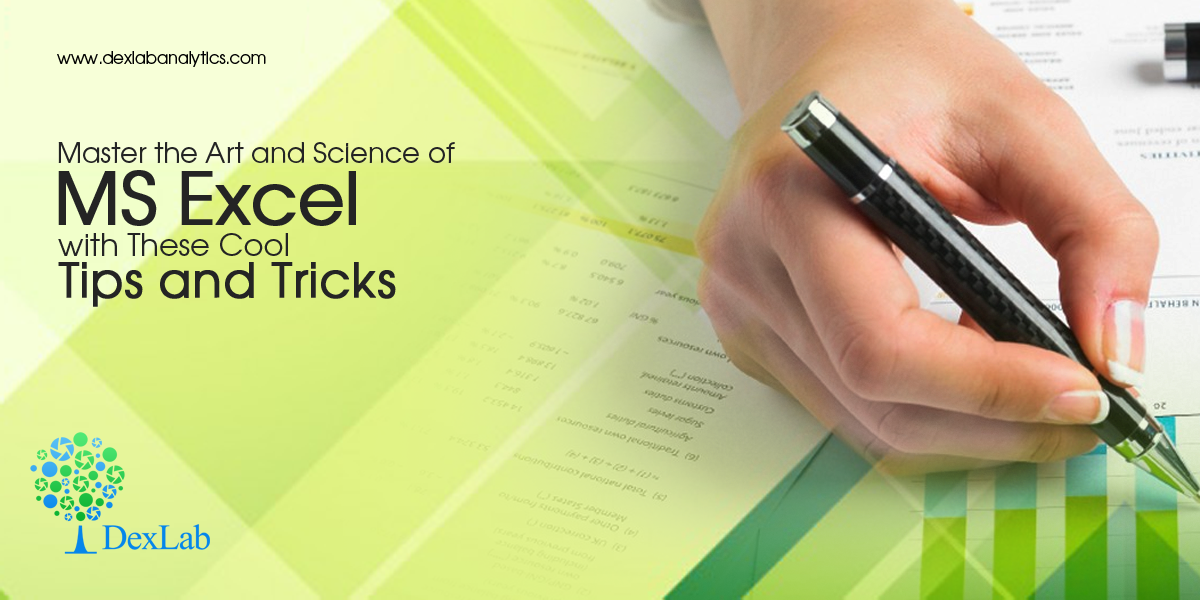 But, remember the bigger the Excel gets, the uglier it starts to get, and that's the time when you need to use a set of tricks and features to keep a tab on the data compilation. Here we've compiled a set of tips on Excel to help enhance your productivity.
Read on.
Select All
For selecting a specific grid of cell, no worries; simply click and drag. But what happens, when you want to select the entire lot? In cases like such, you can either use a keyboard shortcut Ctrl + "A" in Windows 10 and Command + "A" in MacOS or directly go up to the smaller cell in the upper-left corner and hit it.
Hiding or Unhiding Rows
Want to hide rows or columns of data? It mostly happens when you want to print copies of any event, where the audience needs to see only the important parts. Fortunately, it's quite easy to hide rows and columns in Excel. Right click it, and Hide. That's all.
Note: When you're unhiding rows and columns, both, you have to unhide one axis at a time.
Drop Down List
Drop down menu is the best option when you want to restrict the stream of options a user puts into a cell. You can easily create one that provides users a comprehensive list of options to choose from. Just, choose a cell, go to the data tab and click on Validate.
Use of VLOOKUP
Want to retrieve information from a specified cell? For an instance, suppose you possess an inventory of a store, and want to check the price of any single item. You can use Excel's VLOOKUP function. It lets you select a range of columns consisting relevant data, a particular column to pick out the output and a cell to deliver output at.
Shading Every Other Row
Spreadsheets can be really boring, and if you've got lots of data, the chances of reader's eyes drifting here and there get high. Hence, adding a dash of color on the spreadsheet will try to fix the gaze of the viewers. So try shading rows of importance. It will make them more visible and prompt to the eyes.
To color the entire spreadsheet, select all. And if you want to color any particular area, apply effects only on that region.
Concatenate
If you want to reorganize data and integrate information from different cells all into a single field, use concatenate function.
Wrap Text
What happens when a lot of text gets accumulated in a single cell? Obviously, the text spills over into adjacent cells, which doesn't look nice visually.
Luckily, it's easy to wrap a text within a cell. Just select the cell with more text, right-click and select Format Cells.
Now, get ready to master Excel!
DexLab Analytics is a top notch Excel institute in Delhi that caters to the needs of MS Excel aspirants. Their Advanced Excel course in Gurgaon is assembled by the experts and curated to perfection!
The blog has been sourced from – https://www.digitaltrends.com/computing/microsoft-excel-tips-and-tricks
Interested in a career in Data Analyst?

To learn more about Machine Learning Using Python and Spark – click here.

To learn more about Data Analyst with Advanced excel course – click here.
To learn more about Data Analyst with SAS Course – click here.
To learn more about Data Analyst with R Course – click here.
To learn more about Big Data Course – click here.