It is a great new development that the new Visual Studio now speaks the R Language!
Here is how: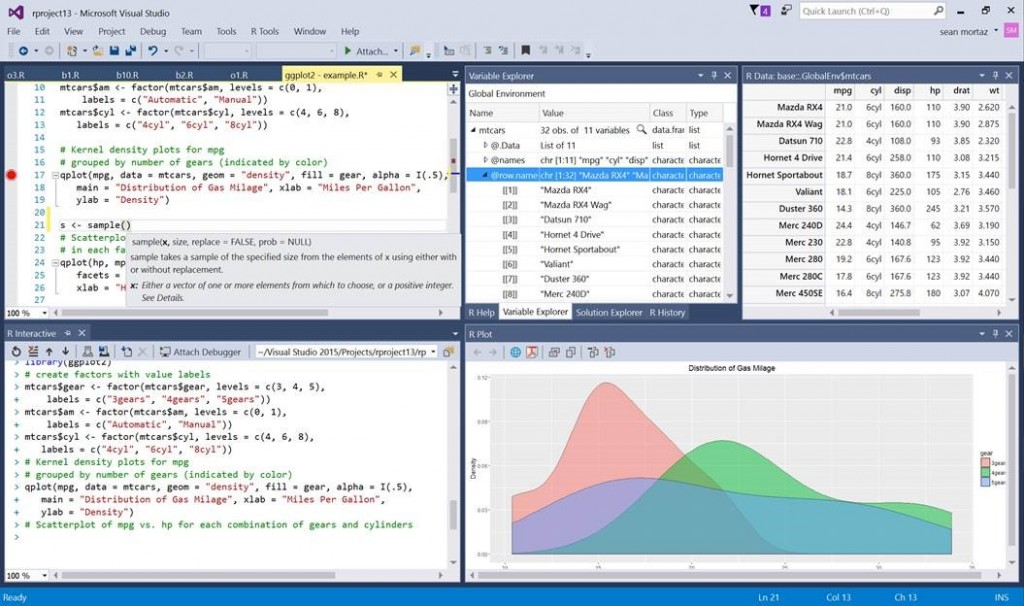 Decidedly now R is the most popular statistical data analysis language which is in use these days. The R tools for Visual Studio brings together the power of R and Visual Studio in the same pod, for a convenient, and easy to use plug-in that is not only free and open source, but is very user friendly. When it is combined with the powers of Visual Studio Community Edition, then you will receive a multilingual IDE, which is perpetually free for all small teams.
In order to showcase and inspire testing and evaluation from the developer community, the R tools package for Visual Studios has been launched as a public preview version.
R Programming courses in Gurgaon with placement assistance is provided by DexLab Analytics.
Here are the new exciting features being introduced in this preview release version:
Editor – this is a complete package for fine editing experience finished with R scripts and functions, which also include detachable/ tabbed windows, syntax highlighting and a lot more.
IntelliSense – this is also known as auto-completion and is available in both the editor as well as the Interactive R window
R Interactive Window – with this you can work directly with R console from within the Visual Studio
History window – one can search, view, and select previous commands and then send it to the Interactive Window.
A variable explorer – now get the advantage to drill deep into your R data structures and examine their values
Plotting – now check all your R plots within a Visual Studio tool window
Debugging – stepping, breakpoints, watch windows, call stacks and much more
R markdown ­– get to use R Markdown/knitr support with export to Word and HTML
Git – get control over source code through Git and GitHub
Extensions – more than 6000 extensions covering a wide spectrum from Data to Productivity to Language
Help – view R documentation with the use of ? and ?? in Visual Studio itself
A polyglot IDE – VS supports, R, Python, C and C++, C#, Node.js, SQL, etc projects can be managed simultaneously.
Some other features that were requested by the R developer community are the Package Manager GUI, Visual Studio Code (cross-plat), and more, which will be a part of one of our future updates.
Now use Azure ML SDK:
Now you can use the R SDK with the RTVS to access all your datasets and also workspaces on the Azure ML. You can use the environment to build and test the models locally and easily operationalize them at scale on Azure.

This SDK is not tied to RTVS, but it can be used from any environment to publish models to Azure ML.
Conclusion:
This new element to the analytics offerings viz. a powerful R authoring environment post their previous announcements of Microsoft R Open and Microsoft R server announcements that took place last year is an exciting development.
For more exciting news on RTVS stay tuned to our regular blogs, because the time has never been better to be a data analyst.
Get R language certification in Delhi from industrial experts with years' worth of experience at DexLab Analytics.
Interested in a career in Data Analyst?

To learn more about Machine Learning Using Python and Spark – click here.
To learn more about Data Analyst with Advanced excel course – click here.
To learn more about Data Analyst with SAS Course – click here.
To learn more about Data Analyst with R Course – click here.
To learn more about Big Data Course – click here.