For millions, Excel is the ultimate tool to understand data and frame insights. It makes analysis easy as pie and intuitive for all. Those who are well acquainted with Excel might know about Insights – it is the newest artificial intelligence-backed capability that rolled out in preview to Office Insiders last month.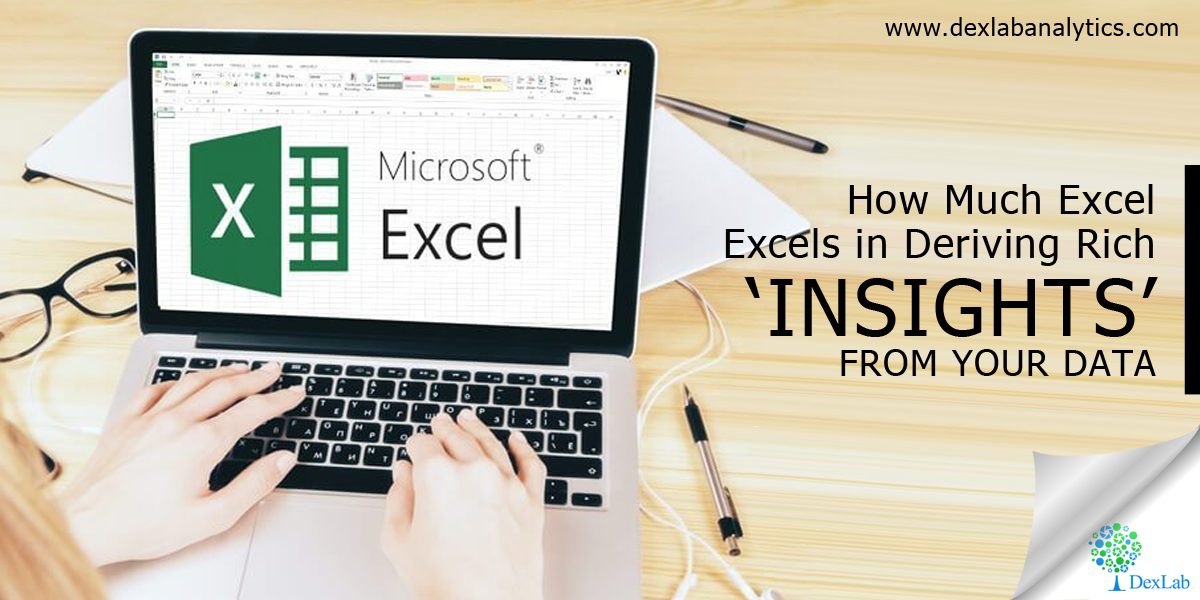 A quick note on Insights
Insights is a brand new service used to highlight patterns it identifies from your data, aiding you discover and inspect new insights, like outliers, trends and several other relevant visualizations and analyses. It will take special care to find out intriguing trends in your data and offer concise summaries with charts and PivotTables. As it's powered by machine learning, the capability to churn out advanced analysis tends to increase as usage grows.
Take a look at the preview for Office Insiders:
What makes Excel this much intelligent?
Here is a set of Excel capabilities that helps you unravel hidden data projections in quest of becoming more productive:
Recommended PivotTables – This is ideal for those who have limited knowledge on PivotTables. On using this feature, Excel gets to decide a perfect layout to match your data with the most relatable areas in the PivotTable.
Quick Analysis – This savior kind of tool offers immediate access to a shelf of formatting visualizations and styles, such as tables, formulas, charts and sparklines. It instantly starts recommending the best and most suitable approach to analyze your chosen data to generate an immediate preview for better decision-making.
Error checking options – Working on a lot of data often leads to mistyping of a number or writing a wrong formula. Excel guides you promptly to prevent these errors by popping up notifications in areas where wrong number or inconsistent formulas are put.
Map charts – The best thing about Excel is that it automatically detects geospatial information on spreadsheets through Bing and helps in churning out data-infused maps. The maps aid in separating data by city, state, country or postal code and determine regional patterns.
One-click forecasting – In case, you got historical time-based data, use Excel's one-click forecasting and boost prediction. This incredible feature helps in creating a new worksheet that includes a chart of historical and predicted values and a table that depicts this data. So, now come predict stuffs, like consumer trends, future sales and stock requirements.
Conditional formatting – Being the most favorite tool of Excel users, Conditional Formatting provides the users the luxury to write rules of formatting data in a particular way. For example, it can quickly add color scales, introduce new icons and identify duplicates to help you determine patterns and anomalies.
Get & Transform – One of the most vital additions to Excel 2016 was Get & Transform, an incredible set of tools that works to provide effective, fast and easy data accumulating and structuring capabilities. Use this feature to connect, gather and refine data sources to suit your analysis needs.
Power Pivot – For powerful data analysis, Power Pivot is the key. Now create sophisticated data models by mashing up several rows of data from numerous sources to share insights freely and make analysis easier and more rapid.
For online MS EXCEL certification course in Delhi NCR, drop by DexLab Analytics. MS Excel Certification online is affordable and student-friendly.
Interested in a career in Data Analyst?

To learn more about Machine Learning Using Python and Spark – click here.

To learn more about Data Analyst with Advanced excel course – click here.
To learn more about Data Analyst with SAS Course – click here.
To learn more about Data Analyst with R Course – click here.
To learn more about Big Data Course – click here.