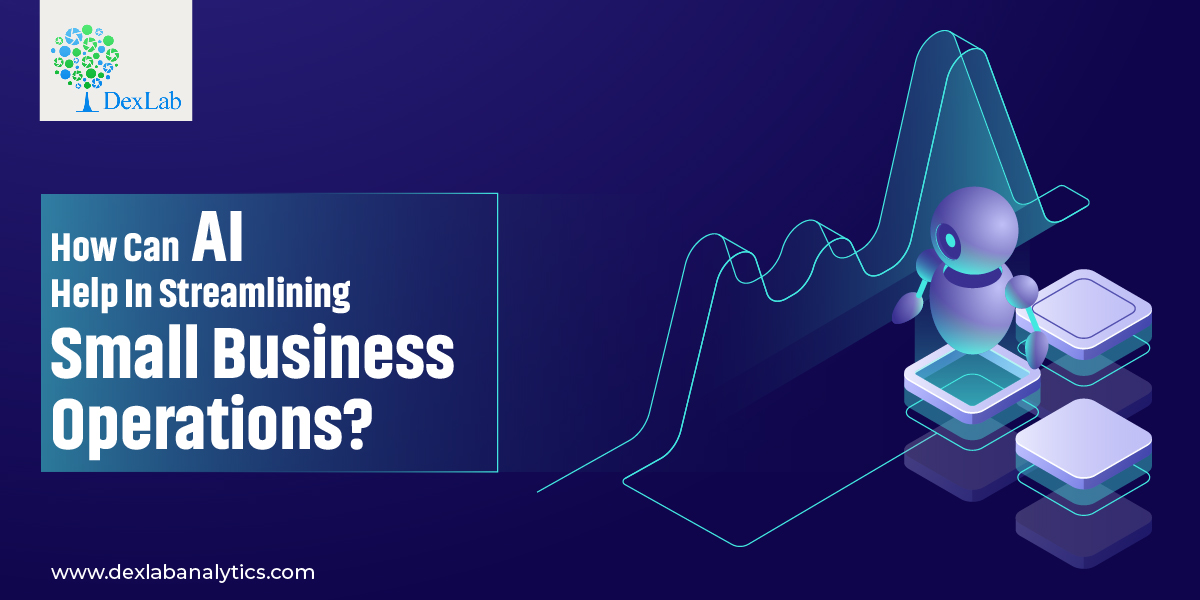 Running a business is a challenging job, especially when business operations take place on a small-scale platform. Small business owners need constant motivation and brainstorming to keep their business in a profitable position.
However, as the world is busy deriving benefits from AI technology, and professionals opting for artificial intelligence course in delhi for better career prospects, small business owners too should seize this opportunity to power up their businesses. 
Why the small business owners are shying away from AI?
With biggies like Google, Amazon,  Apple, Microsoft empowering themselves with AI tools, small businesses are somewhat showing reluctance towards the new technology. Only a small percentage of businesses ranging from small to medium have so far been influenced by it. A 2018 survey showed the number to be around 13.6%.
This indicates there is some inhibition in the small business community, but, it might not just be that, when questioned most small business owners often cite reasons like lack of expertise, financial concern to be the causes.
They are mostly under the misconception that such advanced technology is best suited for giant platforms and their small scale businesses are not going to rake in any profit, even if they invest. They don't even have tons of data like most businesses, to begin with. So, AI being a data-driven technology, might not work for them.
Their perception is gradually changing because of the way AI has started seeping through the very fiber of civilization and impacting so many aspects of life. It is not possible for small businesses to indulge in AI research or, develop a platform specifically for their business needs for feasible reasons but, they can get ideas regarding how best to conduct business the AI way.
Let's find out how AI can be incorporated into small business infrastructure to improve five core areas.
Smarter sales and marketing with AI-powered CRMs
A CRM is an indispensable tool for any business, let alone a small one. Basically, a CRM works to garner customer data from various platforms to enable the sales and marketing team to keep track of their valuable customers while pursuing new leads.
The fusion of AI and CRM could do wonders as it is evident from the way Einstein AI, introduced by SalesForce is working. 
You stand to gain insight into the customer mindset as this fusion will work to analyze customer mindset by analyzing the conversations that happened across different channels. This insight can help shape your sales and marketing efforts accordingly especially if you can upskill your team with customer market analysis courses.
Keep an eye on your rivals
Staying one step ahead of your biggest competition in the market is a crucial need no business owner big or small can afford to ignore. However, it is not easy to monitor every move they make, but, AI can be your biggest ally in helping you track your rival's every digital move.
AI-powered Crayon, is a smart tool that monitors what your competition is doing on social media, across websites and applications, you can gauge their performance and activities and keep a tab on their marketing strategies, pricing, and other such issues to make suitable modifications to your own.
Automate customer service
 Handling your customers is an important but, tedious task and as your business starts to grow so does your customer base and their queries. Investing in a big support team might not always be a feasible option for you, so why don't you take advantage of chatbots to automate the whole process and make it more efficient?
Not all queries are important, some of these are generic which the chatbots can handle while your sales team can focus on more personalized or, technical queries to keep your customers happy. Answering support tickets can be easy with a tool like Digital Genius. It is a great option even for those businesses which can't afford a support team.
Smoother HR operations
No matter how small scale your business might be, you still have to manage your employees and hire new ones, which means having an HR team ready round the clock. Now you can manage this segment bypassing all hassles thanks to AI-powered platforms that automate your HR functions, be it screening applications, scheduling interviews or, onboarding the new employees, every segment will be well taken care of. Not just that but, the administrative jobs that the HR have to do repetitively could be automated too.


Customize your customer journey
Customers like to be pampered, when they shop from big brand names they hardly get to experience that personalized approach. The trendy products aimed at mass-market leave them wishing for something that would suit their style. Retail Analytics Courses can help you develop a better understanding of the whole issue.
 Being a small business owner you already have the advantage to take care of this issue and you can be near perfect in your approach if you get support from smart AI algorithms that can browse through customer data and detect patterns to help you understand the personal preferences of customers and thereby allow you to modify your products accordingly to suit their needs.
Coupled with AI power you could also improve your logistics to ensure your supply chain does not experience any glitch.
The development of AI platforms programmed to perform specialized tasks need to be recognized by the small business community, only then they would find the motivation to channelize the power in the right direction. They can also consider upskilling themselves with deep learning for computer vision course, to be able to harness the power of AI.

.

August 4, 2020 1:25 pm
Artificial Intelligence, artificial intelligence analytics, artificial intelligence certification, artificial intelligence training institute, customer market analysis, customer marketing analytics courses, deep learning certification, deep learning course, Deep Learning Training, Deep Learning Training Courses, Deep learning Training Institutes