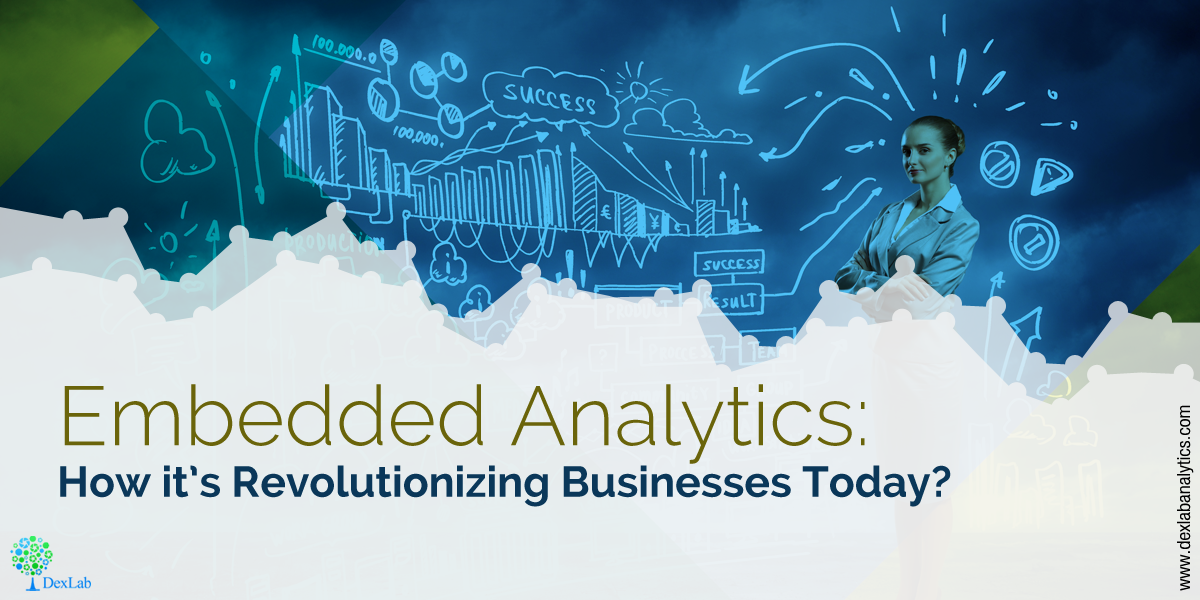 Analytics is the key to modern business growth. But, developing it as a highly interactive analytical interface is challenging enough to exhaust the time and resources both. As a result, many businesses are shifting their focus to Embedded Analytics (EA) for their operations, workflows and decision-making capabilities. This new breed of analytics, known as Embedded Analytics helps businesses leverage the power of data to process them in the most useful manner.
Uses of Embedded Analytics
Data Visualization
A lot of people are great visual learners – patterns and designs convey the best of the information through superior graphic representation. Data Visualization tools create graphic interpretations, using processed information to clearly explain the context, the idea and its evolution. With an effective use of embedded analytic tools, graphs, pie-charts and symbols turn to appear easier, while ensuring dynamic and meaningful data visualization.
Interactive Reports
If it's customizable, it's better. For easy comparison of data and putting into specialized format, refinement of different variables is very important. In this age of digitization, a mere read-only content won't be enough to fulfill the varying demands in the analytic industry. Embedded analytics equipped smart visualization systems possess the ability to instantly adapt to the parameters set by users – features like filtering and zooming ensures ultimate specificity and relevance, while interactive functions seeks robust user experience and presentations.
Mobile Business Intelligence
BI is a stream of data that assists in making companies understand and evaluate data in order to take judicious business decisions, as well as ensure the execution is done perfectly to yield the best results. The very concept of Mobile Business Intelligence traces its roots back to the early 1990's when the evolution of mobile began. However, the advent of smartphone fueled the concept to flames, and BI started gaining traction thereafter. Embedded analytics powered the distribution of BI across numerous mobile platforms. Highly interactive analytic reports and superb visualizations scores high – if they are adaptable to mobile devices and their frameworks. Thanks to Embedded analytics, scalable reporting and adaptable data viz for any mobile devices is no more a distant dream.
User Engagement
High user engagement is the most compelling factor for any digital product. The way how a customer reacts to your product is deciphered by his interaction with the respective application, which in turn gathers data to ensure better service coupled with future updates. On a regular basis, new features are added to enhance user engagement by adding value to an existing customer experience. Embedded Analytics is multi-faceted – it boosts data-driven decisions, while ensuring smoother interaction with the software in question. It also helps in measuring customer sentiment as better customer engagement leads to higher optimization of BI.
Parting Thoughts
Almost everything is churning out data today. The new saying goes by, "Data is the new oil", and we can't agree more. The popularity of big data is re-defining the business world, and along with it several other related concepts, like data analysis, data journalism and of course embedded analytics.
Embedded Analytics helps users and businesses derive crucial insights, over a period of time. By bridging the gap between analytics and operations, Embedded Analytics help in offering teams a sound, actionable intelligence that helps in moving the business forward.
For more information and knowledge on different weapons of data analytics, including Embedded Analytics, drop by DexLab Analytics. It is a powerful learning community providing the best Data Science Certification in Pune. Its Data Science Courses in Pune is truly remarkable; why not take a look at the course itinerary!
Interested in a career in Data Analyst?

To learn more about Machine Learning Using Python and Spark – click here.
To learn more about Data Analyst with Advanced excel course – click here.
To learn more about Data Analyst with SAS Course – click here.
To learn more about Data Analyst with R Course – click here.
To learn more about Big Data Course – click here.