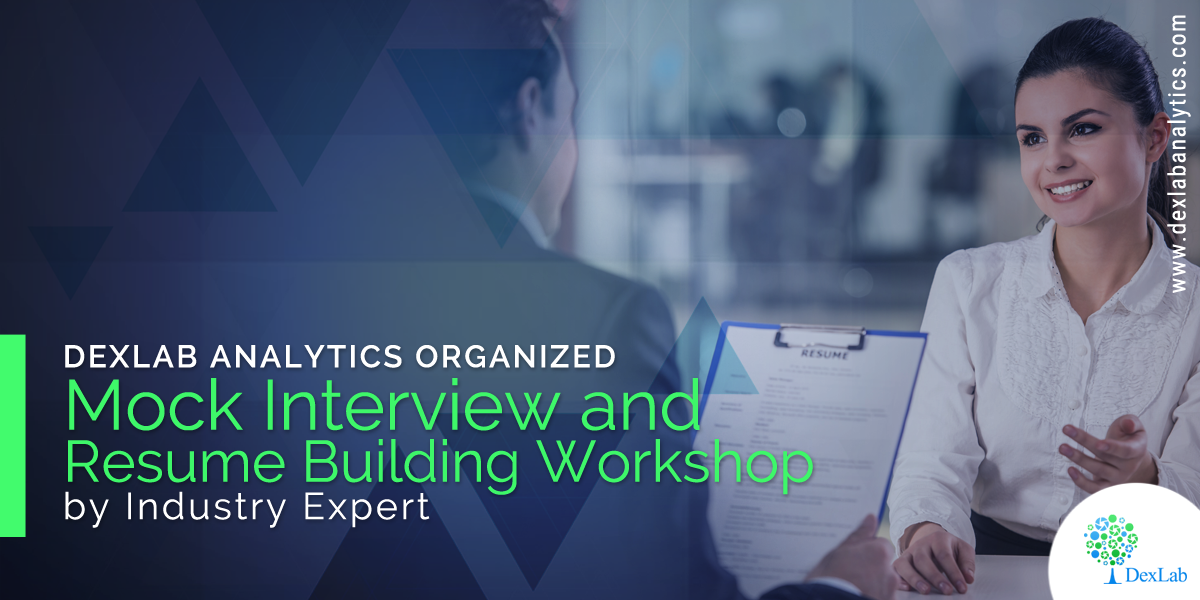 A constructive mock interview and resume building session is a game-changer. Imbibing in-demand analytic skills is tough, but gearing up to crack high-flying job interviews is tougher. And DexLab Analytics addressed that point by curating an intensive resume building workshop on 20th October 2017. The session was headed by Mr. Tanmoy Ganguli, Program Director, DexLab Analytics at the Gurgaon centre in three time slots: 2-4 PM, 4-6 PM, 6-8 PM.
What is a mock interview?
Mock interviews prepare you for the real interview challenge. They enable the candidates to gain some notion about what sort of things they are going to experience during real interviews, while helping them deal with hard times. Often, these kinds of preparatory interview workshops are organized by data science training institutes in Gurgaon that seek ways to train their students to explore the wide vistas of job opportunities across various industry domains. DexLab Analytics is one such pioneering institute that takes the initiative to cater for the needs of its aspiring students, and these kinds of resume building sessions work wonders.
Over a period of time, DexLab Analytics has garnered a lot of good reputation based on the level of training they provide. The trainers working here are industry experts possessing all the needful knowledge regarding this particular field of study, hence learning from them would be fun. Their intensive data analyst courses and workshops are prepared in tune with the latest industry trends and development taking place, hence are high-on-value.
The best part of the story here is that the intensive resume building workshop was conducted by none other than our very own honorable program director, Mr. Tanmoy Ganguli. He has been in this industry for years, and possesses incredible expertise in the domains of SAS, Credit Risk Modelling and Regression Models. Being a key influencer, the sessions presided by him are a sure not-to-miss things for students.
What people learned from this session?
Resume building and mock sessions drastically reduce the anxiety levels. They equip the candidate with the needful interview questions that might be asked in the actual one. The interviewer and the trainer who conducts such events feed the candidate with needful responses that precisely tackles a candidate's potentials and shortcomings. No one is perfect; hence the mock interview sessions help the candidates in becoming a better person, both knowledge-wise and skill-wise.
So, if you are one of them who want to pull up your career dreams of bagging the highest-paying job in the world of analytics, DexLab Analytics would be the right place for you. Right from imparting crucial skill-based knowledge to providing needful advice regarding how to crack a job interview, the event organized by DexLab Analytics is the best way to gather extensive knowledge to nail the best job in town!
Interested in a career in Data Analyst?

To learn more about Machine Learning Using Python and Spark – click here.
To learn more about Data Analyst with Advanced excel course – click here.
To learn more about Data Analyst with SAS Course – click here.
To learn more about Data Analyst with R Course – click here.
To learn more about Big Data Course – click here.