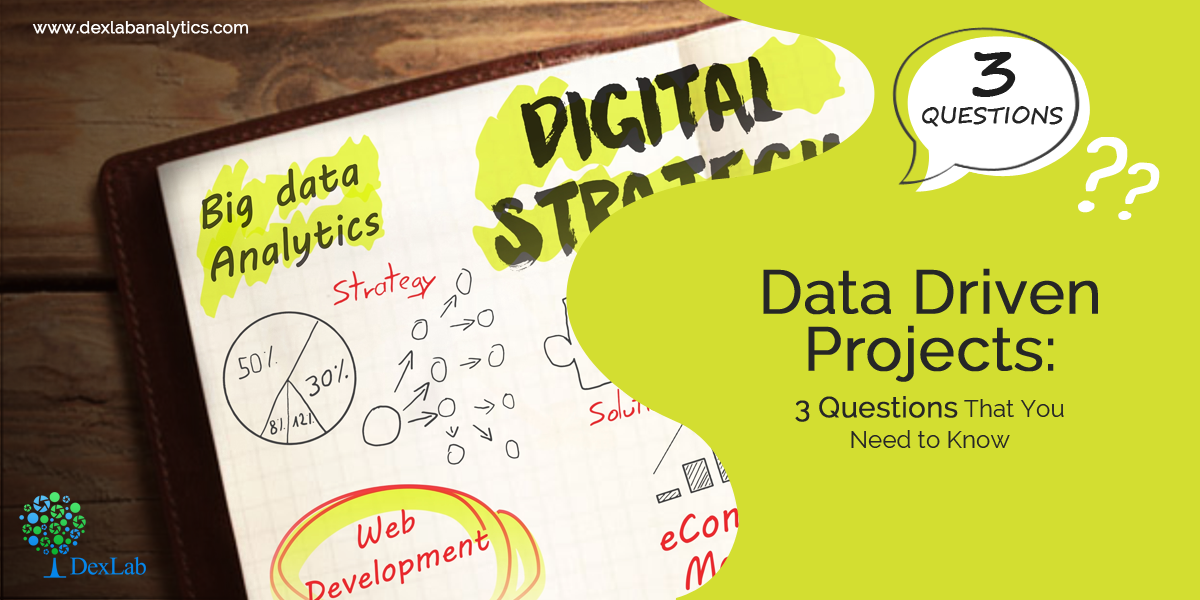 Today, data is an asset. It's a prized possession for companies – it helps derive crucial insights about customers, thus future business operations. It also boosts sales, predicts product development and optimizes delivery chains.
Nevertheless, several recent reports suggest that even though data floats around in abundance, a bulk of data-driven projects fail. In 2017 alone, Gartner highlighted 60% of big data projects fail – so what leads it? Why the availability of data still can't ensure success of these projects?

Right data, do I have it?
It's best to assume the data which you have is accurate. After all, organizations have been keeping data for years, and now it's about time they start making sense out of it. The challenge that they come across is that this data might give crucial insights about past operations, but for present scenario, they might not be good enough.
To predict the future outcomes, you need fresh, real-time data. But do you know how to find it? This question leads us to the next sub-head.
Where to find relevant data?
Each and every company does have a database. In fact, many companies have built in data warehouses, which can be transformed into data lakes. With such vast data storehouses, finding data is no more a difficult task, or is it?
Gartner report shared, "Many of these companies have built these data lakes and stored a lot of data in them. But if you ask the companies how successful are you doing predictions on the data lake, you're going to find lots and lots of struggle they're having."
Put simply, too many data storehouses may pose a challenge at times. The approach, 'one destination for all data in the enterprise' can be detrimental. Therefore, it's necessary to look for data outside the data warehouses; third party sources can be helpful or even company's partner network.
How to combine data together?
Siloed data can be calamitous. Unsurprisingly, data is available in all shapes and is derived from numerous sources – software applications, mobile phones, IoT sensors, social media platforms and lot more – compiling all the data sources and reconciling data to derive meaningful insights can thus be extremely difficult.
However, the problem isn't about the lack of technology. A wide array of tools and software applications are available in the market that can speed up the process of data integration. The real challenge lies in understanding the crucial role of data integration. After all, funding an AI project is no big deal – but securing a budget to address the problem of data integration efficiently is a real challenge.
In a nutshell, however data sounds all promising, many organizations still don't know how achieve full potential out of data analytics. They need to strengthen their data foundation, and make sure the data that is collected is accurate and pulled out from a relevant source.
A good data analyst course in Gurgaon can be of help! Several data analytics training institutes offer such in-demand skill training course, DexLab Analytics is one of them. For more information, visit their official site.
The blog has been sourced from ― dataconomy.com/2018/10/three-questions-you-need-to-answer-to-succeed-in-data-driven-projects
Interested in a career in Data Analyst?

To learn more about Data Analyst with Advanced excel course – Enrol Now.
To learn more about Data Analyst with R Course – Enrol Now.
To learn more about Big Data Course – Enrol Now.

To learn more about Machine Learning Using Python and Spark – Enrol Now.
To learn more about Data Analyst with SAS Course – Enrol Now.
To learn more about Data Analyst with Apache Spark Course – Enrol Now.
To learn more about Data Analyst with Market Risk Analytics and Modelling Course – Enrol Now.
November 8, 2018 1:20 pm
analytics course in delhi, analytics courses, analytics courses in delhi ncr, analytics training institute, Data analyst certification, Data analyst course, data analyst course in delhi, data analyst institute, Data analyst training institute, data analytics, data analytics certification courses, Data Analytics Success Stories, Data Analytics Techniques