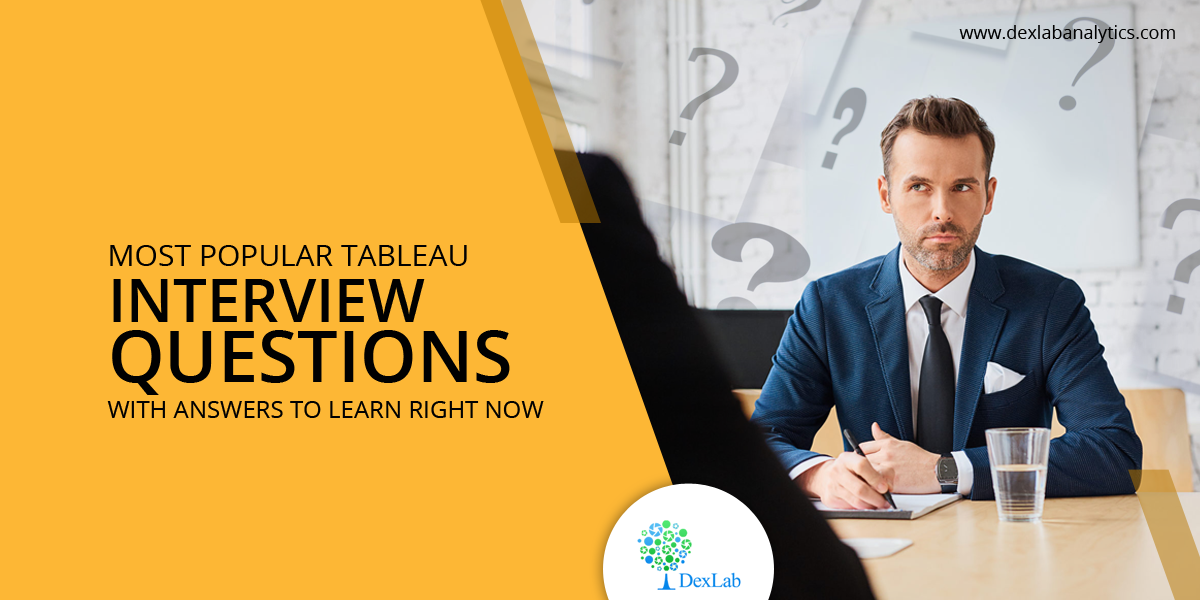 Tableau is dominating the business intelligence industry. It's a powerful and fastest growing data viz tool used to simplify complicated raw data. It helps break the data into easy-to comprehend formats.
In this blog, we've compiled down the most popular Tableau Interview questions with their answers. The sample questions are framed by seasoned experts, who have encompassing knowledge on the subject matter – they have taken needed care and effort to help you get the correct answers. This will help you on your endeavor of job hunting!

Mention top 5 main products offered by Tableau.
Tableau specializes in these 5 products – Tableau Server, Tableau Desktop, Tableau Reader, Tableau Online and Tableau Public.
Name the latest version of Tableau Desktop.
Tableau Desktop Version 10.5.
Explain data visualization, and the use of Tableau.
Data visualization is an umbrella term referring to a set of well-defined techniques used for data communication through proper presentation and graphics (such as bars, diagrams, lines or points).
Tableau helps analyze data in an on-premise database, a cloud application, a normal database, a data warehouse or an Excel file – create interesting representations of data and share with your colleagues, friends and clients. You can also use Tableau to include other data too, and help keep your data up-to-date regularly.
Define filters. How many types of filters exist in Tableau?
In Tableau, there are several ways to filter and restrict your data – the outcome may be oriented towards improving performance, helping viewer get the right information or for highlighting something critical.
Three types of filters are as follows:
Context Filter

Quick Filter

Datasource Filter
Do you know how to remove all options from a Tableau auto-filter?
Right click filter

Customize

Uncheck show all option
Why Tableau Extract is better over live connection?
Tableau Extract is easy to use, anywhere, anytime. For this, you don't need any connection and can construct your own visualizations without connecting yourself with any database.
How many tables can you join in Tableau at the most?
Up to 32 tables can be joined in Tableau, but not more than that.
Define dimensions and facts.
To put simply, dimensions denotes text columns, while facts refer to measures, meaning numerical values.
Examples of dimensions – product name, city
Examples of facts – profit or sales
Highlight the difference between heat map and tree map.
Well, a heat map is an ideal method for comparing groups using size and color. Here, you can easily compare two distinct measures. On the other hand, a tree map is one of the most robust visualization, especially for graphically representing hierarchical data. 
For more in-depth knowledge on Tableau and its related applications, we recommend good Tableau training institutes in Delhi. Tableau certification Delhi is gaining a lot of prominence amidst the data analytics circuit. Hope this helps build a fine career for you!
The blog has been sourced from — intellipaat.com/interview-question/tableau-interview-questions
Interested in a career in Data Analyst?

To learn more about Data Analyst with Advanced excel course – Enrol Now.
To learn more about Data Analyst with R Course – Enrol Now.
To learn more about Big Data Course – Enrol Now.

To learn more about Machine Learning Using Python and Spark – Enrol Now.
To learn more about Data Analyst with SAS Course – Enrol Now.
To learn more about Data Analyst with Apache Spark Course – Enrol Now.
To learn more about Data Analyst with Market Risk Analytics and Modelling Course – Enrol Now.