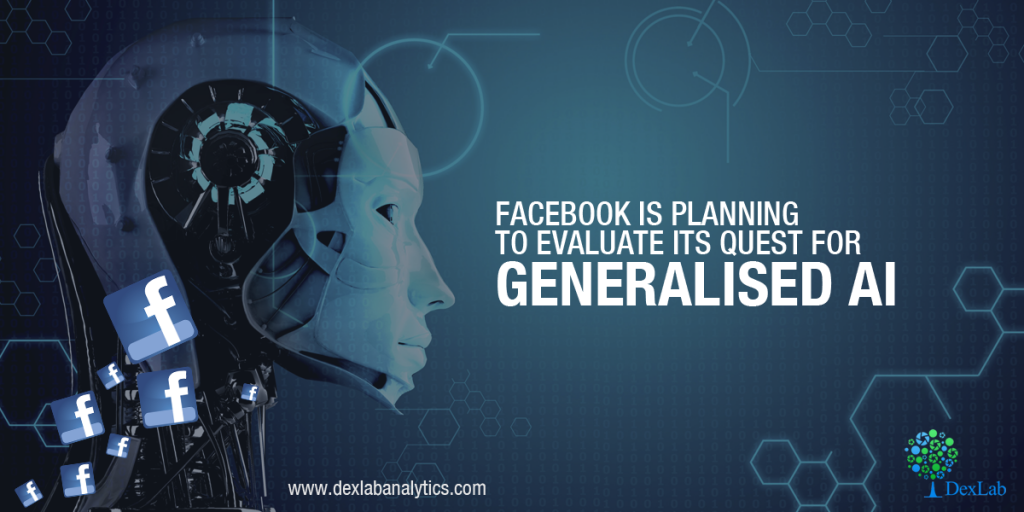 A major misconception about artificial intelligence is the fact that today's robots possess a very generalized intelligence, however, we are fairly efficient in leveraging large datasets to accomplish otherwise complex tasks. Nevertheless we still fail and fall flat at the prospect of replicating the breadth of human intelligence.
Care to contribute to AI development in today's world? Then take up a Machine Learning course online with us. But in order to move forward a generalized intelligence, Facebook is ensure that we know how to evaluate the process. In a recently released paper, Facebook's AI research (FAIR) lab has outlined just that as a part of its CommAI framework.

We will need our systems to be able to communicate and will be able to learn through language effectively even when they lack in context and discussing thing in undefined terms.
Furthermore, such systems should be capable of learning up new skills, fairly simply. As per Facebook this skill set is called "learning to learn". Present machine learning models may be trained on data and be used for classifying defined objects. We can also make use of transfer learning to quickly adapt a model to achieve the same task on the new data, however our machines cannot completely teach themselves without heavy to moderate intervention from the developers.
It is in general agreed upon, that in order to generalize across several tasks, a program should be capable of compositional training. And that is of storing and recombination solutions to sub-problems across the different tasks, as per the team from Facebook.
As per Facebook they consider these capabilities to be of more of a prerequisite to being a generalized AI than the true Turing test. Alan Turing created the original Turing test in the 1950s. It is usually understood to be a means of assessing machine learning intelligence with respect to human intelligence.
However, with the maturation of the field of Ai the Turing test has lost a lot of its relevance. Facebook hopes to offer a nice alternative way to think about the necessary requirements of a modern generalized AI which should be less of a research distraction than the more rigid Turing Test.
The team at FAIR which include – Marco Baroni, Armand Joulin, Allan Jabri, Germán Kruszewski, Angeliki Lazaridou, Klemen Simonic and Tomas Mikolov have also developed another open source platform for the testing and training of AI systems.
For more information on Machine Learning training in Gurgaon or in Delhi NCR, drop by our institute at DexLab Analytics.
Interested in a career in Data Analyst?

To learn more about Data Analyst with Advanced excel course – Enrol Now.
To learn more about Data Analyst with R Course – Enrol Now.
To learn more about Big Data Course – Enrol Now.

To learn more about Machine Learning Using Python and Spark – Enrol Now.
To learn more about Data Analyst with SAS Course – Enrol Now.
To learn more about Data Analyst with Apache Spark Course – Enrol Now.
To learn more about Data Analyst with Market Risk Analytics and Modelling Course – Enrol Now.