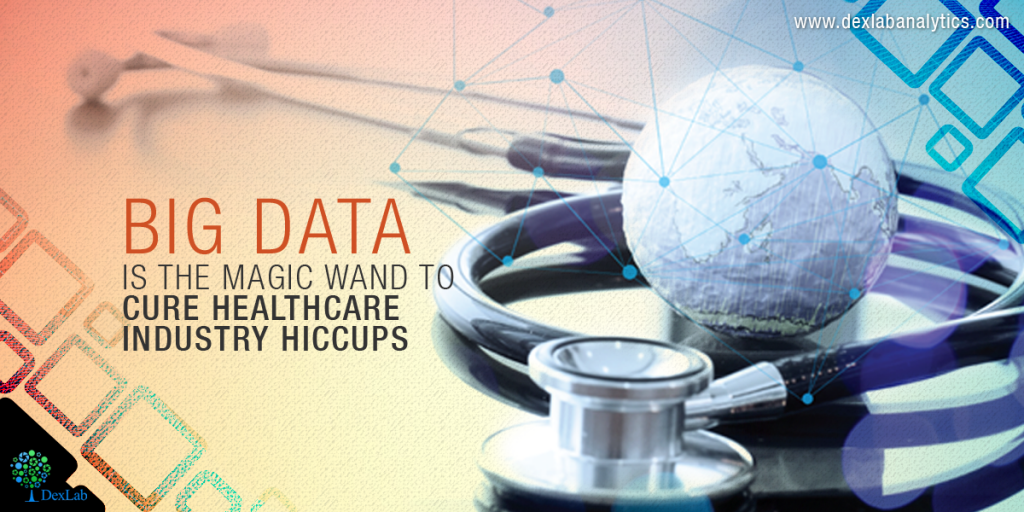 Spurred by advanced Analytics and Big Data technologies, Healthcare industry is going towards a major transformation, of course for the good! The catalyst here is none but our very own, our most favorite Big Data – it is robustly opening all the doors of health and medical science, and the possibilities seem endless.
Electronic Health Records have been around for sometime – numerous systems of variable reliability have been designed to ensure data is more easily accessible as well as transferable between the healthcare professionals, institutions and whatever it is for better patients' care. With Big Data, scientists are coming up with improved sophisticated methods of incorporating the derived information with the data from innumerable number of health-related sources. The main objective is to make the best use of the relevant information in consultation with the doctors and patients to serve in the best way possible.
Nowadays, plenty of veritable companies provide systems which not only help in providing the doctors a detailed study of a patient's medical history but also supply with data that can be used largely for fine treatment purposes. Highlighting correlations between different medical conditions inaccessible before, sparing insights into how these conditions may be influenced by other factors, like treatment methods or in which part of the world they are taking place are some improvements to be witnessed now.
As estimated, 75% of healthcare data is generated from unstructured sources like clinical notes, laboratory tests, emails, telematics, digital devices, imaging and third party sources. This data revolution is brought to you by Big Data, and this is how you can derive the best of its benefits:
Reduce fraud, abuse and waste
We all know how fraud, abuse and waste have been spiking healthcare costs, thanks to data science, the tides are changing now. To ascertain abuse and fraud, insurers require the expertise to analyze large unstructured datasets related to historical claims using machine learning algorithms.
Improve outcomes, embrace Predictive Analysis
Predictive Modeling is helping the health world in detecting the early signs of life threatening diseases, like sepsis. The availability of a vast pool of patients' data means Predictive Analytics would find not only similar symptoms but also will curate a similar response to a specific medication.
Healthcare Internet of Things
The Internet of Things (IoT) is the aggregation of the increasing number of smart, interconnected, technology-efficient devices and sensors that share data over the internet. In healthcare, IoT refers to the devices that monitor almost all kinds of patient behavior, right from blood pressure to ECG. As per statistics, spending on healthcare IoT could cross $120 billion mark in the coming four years and the possibilities are quite high.
Minimum costs but better patients' recovery rates
Through data convergence, stream processing and application agility, full-scale digital transformation is now possible in the medical world. Improving patients' diagnosis is a new milestone achieved in the field of medicines and it has only been possible due to advancement in data science.
On this National Doctor's Day, celebrated on 1st July nationwide, take a big leap in career by enrolling for a Big Data Hadoop course in Gurgaon. DexLab Analytics is the proud name behind such intensive big data training in Delhi, browse through our courses today.
Interested in a career in Data Analyst?

To learn more about Data Analyst with Advanced excel course – Enrol Now.
To learn more about Data Analyst with R Course – Enrol Now.
To learn more about Big Data Course – Enrol Now.

To learn more about Machine Learning Using Python and Spark – Enrol Now.
To learn more about Data Analyst with SAS Course – Enrol Now.
To learn more about Data Analyst with Apache Spark Course – Enrol Now.
To learn more about Data Analyst with Market Risk Analytics and Modelling Course – Enrol Now.