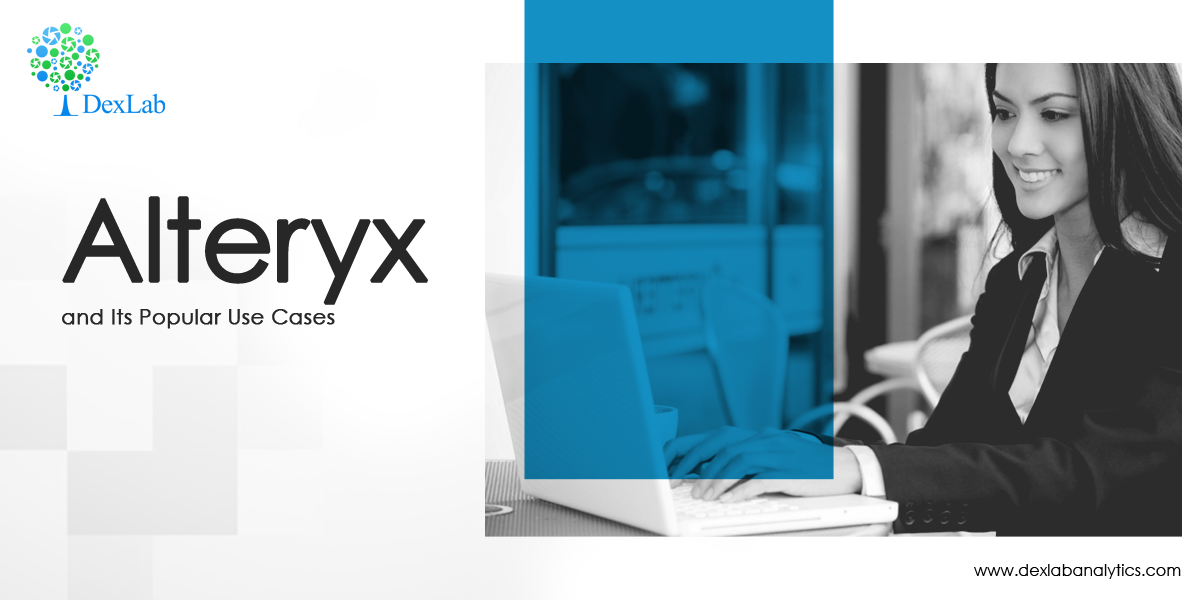 Alteryx, a quick-to-implement data analytics tool, allows data analysts and scientists to work out business problems with unprecedented speed. This end-to-end platform enables data professionals to carry out diverse activities. With Alteryx, it's possible to create a repeatable workflow in order to automate data tasks done manually. It offers intuitive interfaces, both code-friendly and code-free, for analytics modeling. While some data analysts value the predictive modeling, applications development and geospatial tools offered by Alteryx, others depend on it for data enrichment. The Alteryx Designer allows one to organize, blend, match and analyze data from a variety of sources that include flat files, APIs and much more.
Alteryx is very popular among business users as it provides a unified analytics experience for the entire enterprise. Below are two popular use cases where organizations have implemented Alteryx and achieved measurable results.

Schneider Electric improved sales operations efficiency with Alteryx
Schneider Electric is an energy management consultant involving over 150,000 employees and operations in over 100 nations. They were seeking out newer and improved ways to identify top customers with excellent revenue potential and deploy sales resources proficiently. Managing manual processes and plenty of sources of dissimilar sales data, customer data, market data, company financials, etc., is quite a task. Naturally, this overwhelmed the Business Analytics team, slowing down the process of obtaining valuable sales-oriented insights and delaying decision-making too.
As a way out for the account selection process, they resorted to Alteryx and came up with an integrated analytics solution. This hugely sped up the generation of the high-revenue customer list. Alteryx automatically gathered and blended third-party and in-house data, and provided insights in half the time as required by the sales team previously.
Better Insights: Alteryx enriched data quality and included a higher number of data sources. Hence, sales managers got the necessary inputs to optimize deployment of sales resources on main customer profiles.
Hours vs. Weeks: Alteryx helped deploy resources to the right customers with great speed. The analysis time was brought down to three weeks from eight weeks.
Intuitive Workflow: Productivity as well as time-to-insight improved because Alteryx permits analytical applications to be shared between analysts.
AAA National used Alteryx for analyzing customer profiles, resulting in improved servicing
AAA National, a reputed alliance of motor clubs all over North America, wanted a better strategy so that member clubs can sell extra products to active members. Moreover, new members had to be located in each territory and brick-and-mortar offices were to be optimally placed depending on the demographics and drive-times of customers. However, each club handled their own data and aggregating all the information was quite a challenge for Database Administrators. Often, the data would be incomplete or erroneous.
Alteryx Analytics with integrated spatial analysis was implemented to generate self-explanatory drive-time maps along with reports. This enabled member clubs to form a clearer understanding of their membership base and also improve response times and staffing pertaining to the enterprise's emergency roadside service.
Better Insights: Facilitated a clearer understanding of purchase history and demographics of club members, improving branch location decisions and marketing campaigns of the clubs.
Hours vs. Weeks: Previously, the time taken to generate a precise data set for analysis work took over three days; this time came down to two minutes.
Intuitive Workflow: There was no longer any need to use four kinds of tools to check membership requests. A single tool was sufficient for data blending, improvement and spatial analysis, reducing errors and saving money and time.
Feeling inspired to employ Alteryx concepts like insightful dashboards, data blending and intuitive workflows? Look up Alteryx Training Institutes in Delhi NCR. DexLab Analytics offers advanced Alteryx certification courses best suited for data professionals looking to build a lucrative career in this field.
Interested in a career in Data Analyst?

To learn more about Data Analyst with Advanced excel course – Enrol Now.
To learn more about Data Analyst with R Course – Enrol Now.
To learn more about Big Data Course – Enrol Now.

To learn more about Machine Learning Using Python and Spark – Enrol Now.
To learn more about Data Analyst with SAS Course – Enrol Now.
To learn more about Data Analyst with Apache Spark Course – Enrol Now.
To learn more about Data Analyst with Market Risk Analytics and Modelling Course – Enrol Now.