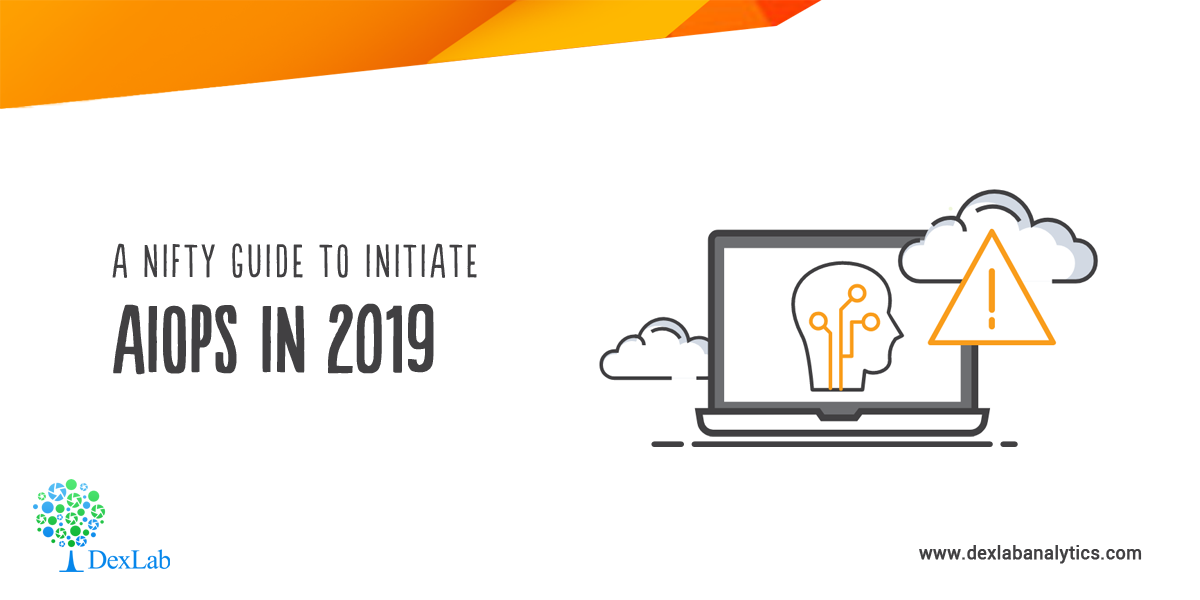 AIOps (artificial intelligence for IT operations) is the buzz word of the 21st century.
In this digitally-charged world, AIOps platforms are the key. They fuse ML and big data functionalities to boost and partly replace primary IT operations' programs, including event correlation and analysis, performance monitoring and IT service automation and management.
In simple terms, AIOps is the combined application of data science and machine learning to help mitigate IT operations-related challenges and find faster insights. It fixes high-severity outages in a jiffy. 
The main objective of revolutionary AIOps platforms is to ingest and analyze the aggravating volume, variety and velocity of data and deliver it in a useful manner.

IT bigwigs are excited about the prospects of applying AI and ML to IT operations.
Gartner expects that big enterprises' usage of AIOps and other monitoring tools and applications will rise from 5% in 2018 to 30% in 2023. The long-term impact of AIOps on IT operations is predicted to be transformative.
Fortunately, AI capabilities are making headway, and more real-time solutions are being formulated and made available each day.
Read on to know how to get started with AIOPs:
Be prepared
First and foremost, you have to familiarize yourself with all the ML and AI capabilities and vocabulary. It doesn't matter if you are gearing up for an AIOps project or not. Capabilities and priorities change; so be ready to implement the platform anytime soon.
Select the first few test cases carefully
Small and steady wins the race. The same phrase applies to transformation initiatives. They start small, seize knowledge and iterate from there. Imbibe the same approach for AIOps success.
Enhance your proficiency
Decode the intricacies of AIOps amongst your colleagues by displaying simple techniques. Ascertain your skills and identify the loopholes, then devise a relevant plan to fill up those gaps in-between.
Feel free to experiment
Although a majority of AIOps platforms are complex and costly, there is a substantial number of open-source and relatively low-cost ML software available in the market that lets you evaluate the efficacy of AIOps and ML applications and their uses.
Look beyond IT
Don't forget to leverage all kinds of data analytics resources available in your organization. Data management is the cornerstone of AIOps. Most of the teams are already skilled in it. Statistical analytics and business analysis are key components of contemporary business frameworks, and many techniques traverse public domains. 

Standardize and modernize, as and when required
Prepare your work infrastructure to implement a robust AIOps adoption by embracing secure automation architecture, immutable infrastructure patterns and infrastructure as code (IaC).
Interested in learning more about Machine Learning Using Python? Feel free to reach us at DexLab Analytics. We're a premier learning platform specialized in offering in-demand skill training courses to the interested candidates.
The blog has been sourced from ― www.gartner.com/smarterwithgartner/how-to-get-started-with-aiops
Interested in a career in Data Analyst?

To learn more about Data Analyst with Advanced excel course – Enrol Now.
To learn more about Data Analyst with R Course – Enrol Now.
To learn more about Big Data Course – Enrol Now.

To learn more about Machine Learning Using Python and Spark – Enrol Now.
To learn more about Data Analyst with SAS Course – Enrol Now.
To learn more about Data Analyst with Apache Spark Course – Enrol Now.
To learn more about Data Analyst with Market Risk Analytics and Modelling Course – Enrol Now.
October 23, 2019 5:31 pm
Machine Learning, Machine Learning Certification, Machine Learning course, Machine Learning course in Gurgaon, Machine Learning course online, Machine Learning Courses, Machine Learning Training, Machine Learning Using Python, Python, Python certification, python certification course, Python courses, python data science course, Python Training Institute